Is President Jonathan Getting Set To Move?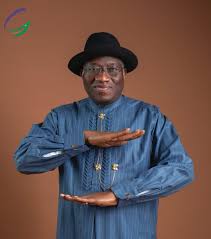 By Eromosele Okoduwa
google.com, pub-3120625432113532, DIRECT, f08c47fec0942fa0
President Jonathan *refused* to assume his constitutional position of PDP BoT Chairman. He rather willingly allowed someone else in the line of cadre to be the Chairman.
As we speak today, nobody can point to anyone who can be said to be an "ark enemy" of President Jonathan. Can the same be said of other past presidents, state Governors, Local Council Chairmen, or even councillors? Just because they "joined politics"
The Goodluck Jonathan Foundation (I know many of us don't even know this exist, not to talk of attempting to utilize the mission and vision of the foundation); has proved to be more impactful and worth his time, than to be arguing with party members in Wadata plaza to simply obey the party constitution!
Or will he be joining the APC to become their BoT chairman they never had, or their National Chairman or be settling their riotous activities in the midst of their gunrunning characters? Is that what he wants to reduce himself to?
Or he wants to be President; and even if he wins, he will either be struggling to fix a Nation with State Governors whose agenda are all different from his; or he will be appointing ministers and aids who are all in politics for reasons far different from Nation Building?? Is that what he will like to be doing now?
Yes, I wasn't surprised one bit seeing some APC Leaders wooing him to their party; do those people ever know what the "time" and "tide" says?? I can tell you for free if President GEJ was to respond to that visit, he will be misinterpreted that he hasn't healed from the defeat by the APC; and why will he even need to reply them? The best thing was just to laugh it off, and take photographs with them, and quickly made his way to the Presidential wing of Nnamdi Azikiwe International Airport for a flight to meet other world Leaders for a meeting geared towards world Peace.
By the time Bandits take over Aso Rock, either through their military or "e don set" properly for Nigeria, and everybody don dey run Helter skelter looking for where to hide; then Jonathan may join other world Leaders to begin to plan the next line of direction for Nigeria; as they all joined to help Rwanda that year.
For now, Nigeria never develop for somebody like Jonathan to be looking for the highest political office. So, you can continue to expect him this weekend in APC. I wish "good luck" and "patience" while you wait.