BSM Dolls Out Cash Prizes To Encourage Indigenous Language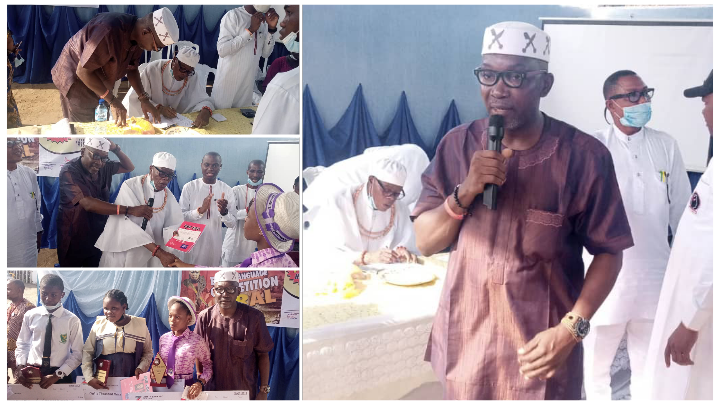 By Simeon OSAJIE
In other to encourage indigenous language in Benin Kingdom, the President of Benin Solidarity Movement (BSM), Ambassador Elder Comrade Curtis Eghosa Ugbo has given out additional prizes to young indigenous students in Benin City, Edo State capital.
google.com, pub-3120625432113532, DIRECT, f08c47fec0942fa0
The move, according to the Benin based freedom fighter, is to encourage reading, writing and speaking of Benin language across the kingdom.
Ambassador Ugbo gave the prize at a Benin language quiz competition organized by Lawrence Osayande and Oba Ewuare II Foundation for Secondary School Students.
The Benin Solidarity Movement President who was the Chairman of the Occasion at Oba Ewaure II Foundation, gave Fifty Thousand Naira (N50 000.00) to the Winner and other various prizes to first and second Runners Up including Benin Language Books to boost the morale of young ones towards reading, writing and speaking indigenous Benin language.
"The aim of the various prizes is geared towards encouraging the young ones on the importance of reading, speaking and writing of Benin language. If we are able to catch the young ones at the primary and secondary levels, they will grow up as better adults in promoting the reach cultural and traditional heritage of the kingdom.
"We hereby called on parents to teach their wards on the use of Benin language in their daily conversations ."
Ambassador Ugbo who described indigenous language as means of identity, maintianed that the use of language promotes cultural and traditional inheritance.