I Have The Intention To Run For President, Says Osinbajo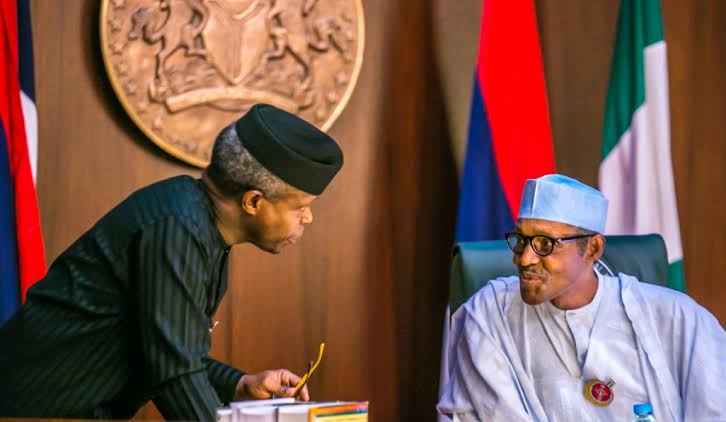 By Simeon OSAJIE
Nigeria Vice President Oluyemi Osinbajo has informed his boss, President Muhammadu Buhari of his intention to run for president in 2023 and sought the blessing who did not make immediate commitments, Peoples Gazette can report.
google.com, pub-3120625432113532, DIRECT, f08c47fec0942fa0
Prof. Osinbajo's move came when he met with President Buhari on New Year's Day with the mindset that his ambition will see a gradual but consistent upswing if moored to honesty and uprightness from the beginning, according to three administration officials familiar with the development.
"The VP did not want to go into the election year by hiding a plan which the president had probably already known about," a national security aide told The Gazette on Monday night under anonymity because the parley was not approved for public consumption. "He knew that an immediate endorsement of the president, on the other hand, may not be so easy to come by."
Prof. Osinbajo said he was not looking to ambush and railroad the president into endorsing him and has long acknowledged that it might take uncommon fortitude to tilt the president's support towards himself, according to the official who was present at the meeting.
"But he would continue to make efforts to see if he could get the president's backing nonetheless," our source added. "It is inherently crucial."
It remained unclear when Prof. Osinbajo first made up his mind about running for president, but sources said his chances of getting his principal's support became complicated after he was allegedly recorded discussing how Mr Buhari was not likely to make it through his presidency and gloated about how he would succeed him.
"The president has been in possession of an audio recording of the vice-president talking about how he will gain power in the manner similar to Goodluck Jonathan's fluke," another senior presidency official said. "That is why most of us loyal to the president are not supporting the vice-president's ambition."
"The president told some of us to consider our political interest individually," the source added. "But we all know his body language since he listened to the tape has been more than clear."
Although The Gazette was unable to obtain the audio or its certified excerpts, a senior civil servant at the presidency corroborated its existence, but strongly disputed its context.
"It's over a year since I heard that there was an audio in which the vice-president talked about succeeding the president, but it is not true that he was wishing death on the president so he could take over," the source said.
"The vice-president was only complaining about being undermined by key loyalists of the president. He also said some of them will immediately switch to his side should he succeed the president," the official said. "The vice-president did not pray for the president to die as people are insinuating about that audio."
The official said "certainly" when The Gazette asked him whether or not the audio circulated amongst presidency officials.

"Those who were senior enough to know about the audio knew about it," he said.

Prof. Osinbajo, 64, will likely run on his credentials are a better educated, more acquainted leader than President Buhari. He received accolades when he briefly acted as president in 2017 as President Buhari was receiving treatment abroad for nagging ear infections and and other complications that remained undisclosed. He was seen as a unifying figure when he led the country for a few months that year.

Whereas Prof. Osinbajo has kept his ambition away from the public, relying on outside political loyalists to help push his case on social media, his latest discussion with Mr Buhari has all but guaranteed his battle against Bola Tinubu, a former Lagos governor and towering political entity of the ruling All Progressives Congress. Mr Tinubu, who helped Prof. Osinbajo clinch the vice-presidential slot in 2015, is preparing to announce his run for president later this month, although dates have not been formally announced.

"We are pushing for the vice-president because Asiwaju Tinubu cannot be easily sold to Nigerian people because of how damaged he had become over the years," an aide to Prof. Osinbajo said on Monday evening. "But, most importantly, you will agree with me that it is easy for the vice-president to present himself as the better alternative."

To beat back Mr Osinbajo, Mr Tinubu has been counting on President Buhari's support, as well as forging consensus amongst northern political players.