JOSEF Launches Youth Participation In Democracy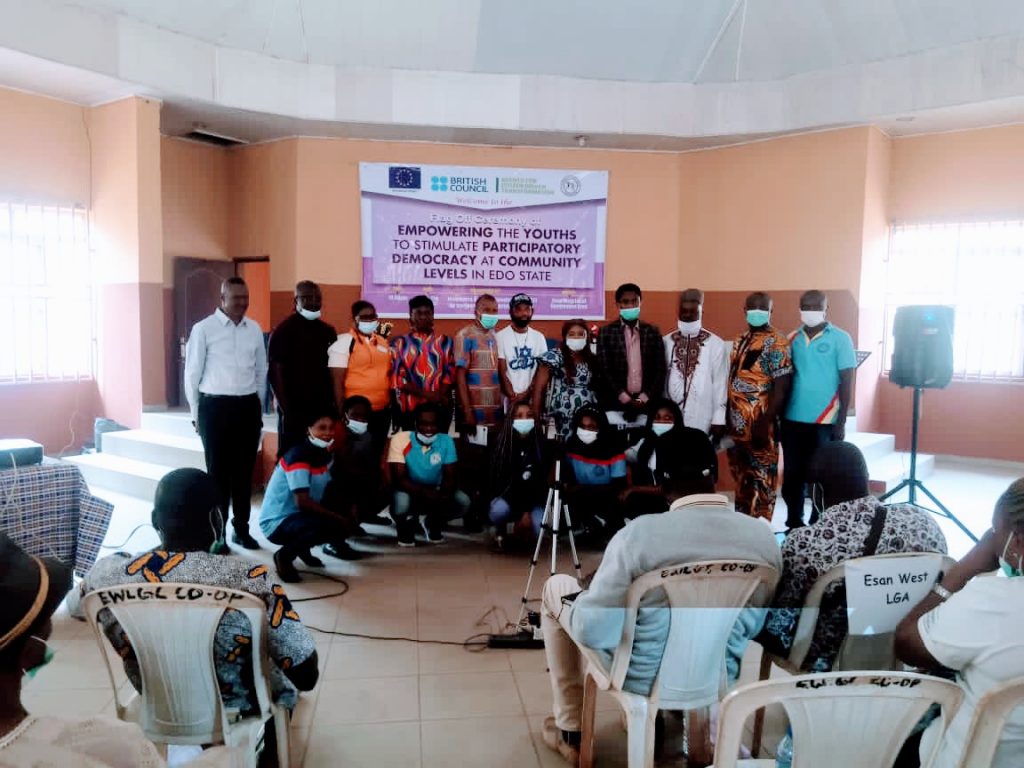 By Simeon OSAJIE
Josemaria Escriva Foundation (JOSEF) has launched a campaign to sensitive and educate the youths on participatory democracy at the community levels
google.com, pub-3120625432113532, DIRECT, f08c47fec0942fa0
The programme which is termed "Empowering the Youths to Stimulate Participatatory Democracy at the Community Levels in Edo State", is being organised under the Agents for Citizen-Driven Transformation (ACT) programme financed by the European Union and implemented by the British Council in collaboration with the Josemaria Escriva Foundation, Ekpoma in the 5 local government areas of Edo Central Senatorial District.
While welcoming participants to the inaguration of the project at the Esan West Local Government Council Secretariat, the Chief Responsibility Officer of Josemaria Escriva Foundation, Dr. Jude Obasanmi said the programme is meant to empower the youths on their duties in democracy as more of them have negative impressions on their roles before elections, during elections and after elections.
While noting that Abuja the nation's capital and Benin City the Edo state capital are too far for those at the grassroots, they can be empowered to constructively engage those at the local government levels to drive development.
According to Obasanmi, "the project is aimed at empowering young persons, particularly the youths to stimulate what we have called participatatory democracy at the community level, because we realised that most of the time people complain that they cannot go to Abuja, they're unable to go to Benin, the state capital; but at the local level, we have the Local Government administration that they can constructively engage to drive development.
"Elections are coming, most young men just feel that their level of participation is at the point of maybe collecting N3,000 to snatch ballot boxes or voting for candidates that are not their choices. So, we want to tell them they have a right to participate in politics, to participate in ensuring that credible people are the only ones that are voted into office; that they don't get themselves involved in thuggery activities or other programmes and tendencies that are not good for young persons".
In his opening remarks, the Head of Local Government Administration in Esan West Local Government Council, Engr. Emmanuel Ibhadode tasked the youths on the enthronement of credible leaders who will be accountable to the people urging them not to stand aloof after election but contribute by way of advice to the elected officials.
"Most youths don't understand that you have that power, we don't understand our roles, what we're supposed to be doing during elections; you don't know that power lies in your hands to choose your leaders. Not just choosing your leaders, even when the leader is there, be involved in decision making, if you are not involved anything can go wrong", he counseled.
The royal father of the day, His Royal Highness, Abumere 11, Onojie of Ekpoma cautioned the youths against hero worshipping and idolising those short changing them in the delivery of dividents democracy.
The Onojie of Ekpoma who was represented by Chief, Hon. Idoboiwa urged the youths to avoid showering unmerited praises on political office holders for paltry monetary gains.
Detailing the essence of the programme, the project consultant, Dr. Bright Onivokukor noted that the project is aimed at empowering the youths with information to enable them bring the transformation needed in their various communities adding that it's going to be a continuous process and not a one off thing.
"This particular programme wants to stimulate the youths to come into this democracy whether before election, during election or after election, how their interest can be stimulated to actually participate in a manner that will bring development to their various communities. The approach we are using now is getting youths from various communities and empowering them with information and the wherewithal to go about advocacy, community mobilisation and a whole lot of things they can do in their communities".
In her remarks, the Edo Central Coordinator of Persons Living with Disability, Racheal Iyeke lamented the discrimination being meted to persons living with disability during elections and other community activities and called on elected political office holders to ensure they fulfill their electoral promises to persons with disability and carry them along in the scheme of things.
Two hundred persons are participating in the project comprising of forty persons from each of the five local government areas in Edo Central Senatorial District and made up of sixteen males, sixteen females, two male persons living with disability and two female persons living with disability.