2023: Atiku, PDP Picks Wike As Running Mate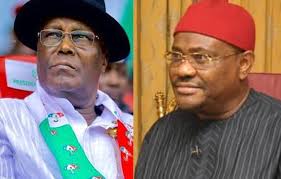 By Simeon OSAJIE
The presidential flag bearer of the Peoples Democratic Party (PDP) , Alhaji Atiku Abubakar the Waziri of Adamawa and the PDP leaders has settled for Rivers State Governor, Nyesom Ezenwo Wike as running mate in the 2023 presidential election.
google.com, pub-3120625432113532, DIRECT, f08c47fec0942fa0
The9jaTREND gathered that Governor Wike, who came second at the primary election of the Peoples Democratic Party (PDP) penultimate Saturday, has agreed to fly the PDP flag alongside Atiku Abubakar.
According to very authoritative sources within the PDP hierarchy, both the Board of Trustees of the party, its Governors Forum and other strategic organs have all endorsed Wike's choice for the job.
Atiku, who is said to be happy with Wike's choice, had been in search of a capable assistant from the southern divide of the country.
The search, The9jaTREND learnt, had taken the Atiku team through the Director-General of the World Trade Organisation (WTO), Dr. Ngozi Okonko-Iweala and President of the African Development Bank (AfDB), Dr Akinwunmi Adesina, who are said to be "unavailable" for the job due to their present engagement.
Other considerations, The9jaTREND gathered, were also made but the search zeroed in on the PDP governors who were said to have earlier demanded that the party reciprocates their loyalty and support even in the face of coercion by the ruling party, by picking one of them.
Also, The9jaTREND gathered that several top-level stakeholders of the party and youth groups had strongly voiced their support for Wike as running mate.
Wike's record of delivery in Rivers State which earned him the nickname "Mr. Project" was also considered in the selection process. Preparations were being made to submit Wike's name to the Independent National Electoral Commission (INEC) as scheduled. However, the commission has announced a slight adjustment on the deadline for submission of the names of candidates and their running mates to June 18, 2022.