Court Warns Johnson Atseruleghe To Be Of Good Behaviour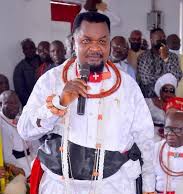 By Simeon OSAJIE
A Benin High Court, presided over by Hon. Justice Efe Ikponmwoba, has granted bail to Chief Johnson Atseruleghe, the lyatsere of Warri, with an order to enter into an undertaking of good behaviour in Ologbo Dukedom in Ikpoba Okha local government area of Edo State.
google.com, pub-3120625432113532, DIRECT, f08c47fec0942fa0
The development was sequel to earlier submissions of Edo State Attorney-General, Oluwole Iyamu, SAN, who urged the Court to make Johnson Atseruleghe enter into a formal written undertaking and file same before the Court.
Oluwole Iyamu, SAN, also urged the Court to prevail on Johnson Atseruleghe to keep the peace and stop harassing or threatening witnesses in the matter, particularly in Ologbo Dukedom, before the Prosecution will withdraw the Counter Affidavit against his bail.
On his part, Johnson Johnson Atseruleghe's Counsel, Ighodalo Imadegbelo SAN, submitted that the Defendant has agreed to enter into an undertaking made on Oath in view of Section 162 of the Administration of Criminal Justice Law.
In view of the concession of the Prosecution, Hon. Justice Efe Ikponmwoba, consequently granted bail to Johnson Johnson Atseruleghe in the sum of One Million Naira and a Surety who must be resident within the jurisdiction of the Court.
The Court also ordered Johnson Johnson Atseruleghe to stay away from the complainant.
Hon. Justice Ikponmwoba then transferred to matter to Criminal Court 3 for the continuation of trial.
The lyatsere of Warri, Chief Johnson Atsetuleghe and others still at large are currently being arraigned for alleged conspiracy, unlawful damage of properties and warlike undertaking against the Enogie and people of Ologbo Dukedom as well as malicious damage of Edo State Tax Collectors properties.
The Defendant, Chief Johnson Atsetuleghe, the Iyasere of Warri and others at large are being tried on a seven count charge of assault and malicious damage of Edo State properties with Charge No: B/Co.126/22.