Come To Our Rescue, Iyanomon Community Begs Edo Govt, Oba of Benin, Edo CP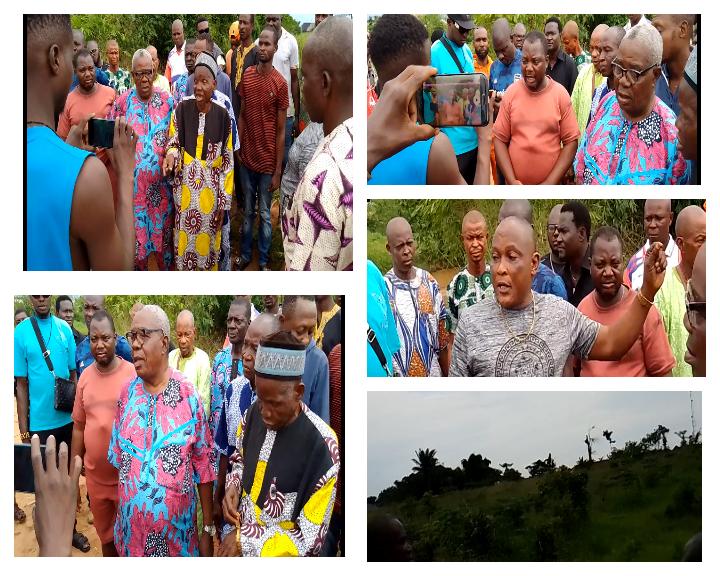 By Simeon OSAJIE
The Odionwere, Elders and Youths of Iyanomon Community in Ikpoba Okha local government area of Edo State has appealed to Edo State Governor, Mr. Godwin Obaseki, Oba of Benin Kingdom, Oba Ewuare II, Edo State Commissioner of Police and other relevant security agencies to come to their rescue as the abandoned land (bush) on both side of the community has become hideout for criminals and hoodlums to perpetuating their evil acts.
google.com, pub-3120625432113532, DIRECT, f08c47fec0942fa0
Speaking to The9JaTREND Reporter, acting Odionwere of Iyanomon Community, Elder Robinson Izekor said, "recently, we heard a woman's voice calling for help. We made several efforts to reach out to vigilante and the police, all to no avail. The following day, we found dead body in the bush.
"We want to use this medium to call on Edo State governor, Mr. Godwin Obaseki, our great Oba, Omo N'Oba N'Edo Uku Akpolokpolor, Oba Ewuare II, the Oba of Benin, Edo State Commissioner of Police and other relevant security agencies to come to our rescue as the hoodlums have taken the advantage of the landed properties in both side of the community as their hiding place to perpetuate their evil acts, we don't know anything about the dead body and we are appealing to Edo State government to help us evacuate the dead body. We don't want to be accused of anything about the dead woman.
"Also, the landed property which has become hiding place for the hoodlums to continue their evil acts has been here for more than a decade without development. Nobody is coming to develop the land.
"For the benefit of the general public and those who are claiming to owed the landed property; we are given them a month notice to come with their proof of ownership for verification and immediately commence work.
"If at the end of the month (July) nothing is done and nobody come to claim ownership, we shall have no option than to sell the properties to those who are willing to buy and commence development immediately, because we will not continue to allow this bush to continue causing havoc to our community," he said.
Also speaking, secretary of the community, Elder Odigie said, "How can some people claimed to have purchased the land from Iyanomon Community for a decade now and refuse to come for development. We cannot continue like this, we need development, Iyanomon Community need development, Iyanomon must develop.
"If at the end of the month (July) as our acting Odionwere had rightly said, nobody show up to identify his or her land here, we will be left with no option than to sell the landed properties to those who are willing and ready to buy and commence work immediately.
"I also want to appeal to Governor, Mr. Godwin Obaseki and Edo State Commissioner of Police to as a matter of urgency help erect police post here to cub the activities of hoodlums who are taking the advantage of the bush perpetuate their evil acts here at Iyanomon community."
Elder Sunday Oguneye Odigie is also a member of the Iyanomon Community. According to him, "The acclaimed owners of the land are continuing intimidate us that their fathers owe the land. All we are saying is that, they should come and develop the land to reduce the evil acts of hoodlums who are using the advantage to continue their killings. If they refuse to come before the end of July as our Odionwere had said, we shall go on to dispose off the land. Our quietness is become too much, we will not take it likely again."
According to the Okaighele of Iyanomon Community, "This place, we the youths of Iyanomon are tired. Everyday we witnessed kidnapping, killing and robbery here. It is by the grace of God we are still alive. We are pleading with Governor Godwin Obaseki, the Commissioner of Police and other relevant security agencies to help us find a lasting solution to this problem that is ravaging our community. We need police post here to check the activities of this evil people in our community," he pleaded.
Going further, he added, "This area has been abandoned for decade now. The people who claimed they owed this land refuse to come for revalidation. Sometime we do see some people come here overnight to buried something here. The recent one that occurred here was that of an innocent woman who was murdered here by unknown persons. We are no longer safe here. We are calling on all relevant authorities including our great Oba of Benin Kingdom, Oba Ewuare II, to come to our aid.
"We also want to appreciate the efforts of the Nigeria police and Edo State Security vigilante groups who came to ensure regular patrol round the bush. We are also appealing for the patrol to continue and possibly erect police post here. We are ready to assist in whatever way the police and vigilante may need us," he said.
In a chat with Edo State Police PRO said the matter have not gotten to his table, that when the matter comes, he will speak on it.