Pan-African Organisation Donates Exercise Books To School In Rivers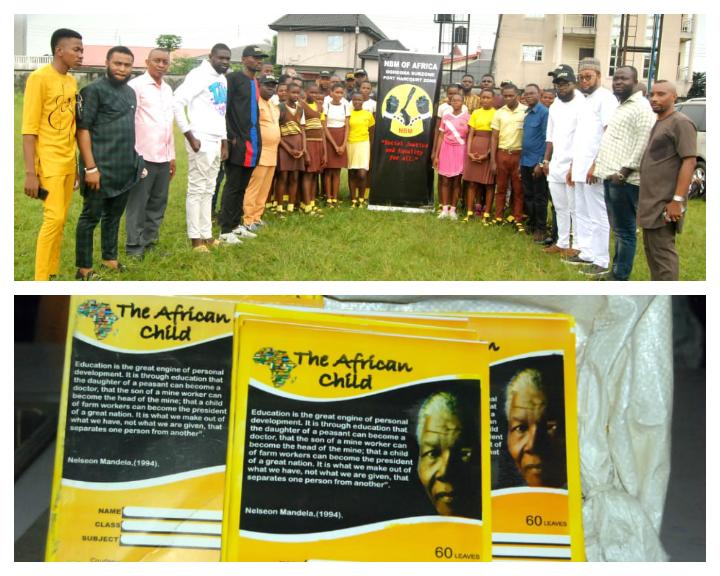 By The9HaTREND
AS Part of its corporate social responsibility to humanity, a Pan-African Movement under the aegis of Neo Black Movement of Africa (NBM), Oginigba Sub-Zone has donated 1,000 free exercise books worth thousands of Naira to the students of Oginigba Comprehensive Secondary School in Obio Akpor Local Government Area of Rivers State.
google.com, pub-3120625432113532, DIRECT, f08c47fec0942fa0
Describing the humanitarian gesture of the Oginigba Sub- Zone, under Port-Harcourt Zone as first of its kind, the Principal of the School, Mr. Lesley Nwokoma, commended the group (NBM) for the free books.
He asserted that the books would go a long to helping the students particularly the indigent ones in their learning processes.
Nwokoma, appealed to the Movement for more donations to the students, remarking that most students of the school are from indigents homes, hence, they need assistance from the public.
Similarly, the school's Senior Prefect, Miss Anita Brown while saluting the NBM asserted that "Books will go a long way to help the less privilege students, who do not have writing materials to meet with their counterparts"
Speaking earlier, the Oginigba Sub-Zone Coordinator, Mr. Samuel Ndamati, said the gesture was informed by the need to give back to the society, which he opined is part of CSR of the NBM.
According to Mr. Ndamati, "this give-away exercise books is part of NBM of Africa's Corporate Social Responsibility (CSR), as a way of giving back to the society and the less privilege".
The Coordinator who was accompanied by the National Public Relations Officer of the NBM, Mr. Oluwatosin Dixon and Port-Harcourt Zonal Deputy President, Mr. Tochukwu Nkwocha, advised the students to be serious with their education as they are the future leaders of tomorrow.
He however donated N30,000 Naira for the repair of the School Laboratory that was destroyed by suspected vandals.
Also present at the event are Mr. Enebeli Christian (Port Harcourt Zonal Public Relations Officer), Oginigba Sub-Zone Executive and members.