BSM Condemn Alleged Corrupt Accusations Against Edo CP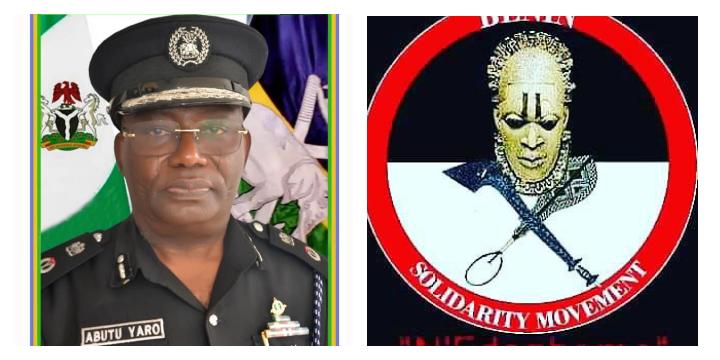 By The9JaTREND
The Benin Solidarity Movement (BMS) Worldwide, a socio cultural group and non-governmental and non-profit organization has condemned the alleged accusations against the Edo State Commissioner of Police, CP Abutu Yaro of been corrupt by some faceless group as a mere way of trying to fight back by criminals to save their face.
google.com, pub-3120625432113532, DIRECT, f08c47fec0942fa0
In a statement issued and signed b it's President and Acting Secretary-General, Comrade Curtis Eghosa Ugbo and Ms. Esohe Adun respectively said, "the recent but unfounded publication credited to one online publication in which a faceless group called 'Rule of Law and Accountability Advocacy Centre' (RULAAC) is accusing the hard working Edo State Commissioner of Police, CP Abutu Yaro, the Anti-Kidnapping and the CIRRC Teams respectively in the Edo State Police Command of complicity and corrupt practices in the investigations of a petition against one SP Ngwokor Friday and his team at the SIB Unit in the Command.
"As patriotic Nigerians and a group that will not compromise the security and peaceful co-existence of citizens in Benin City in particular and Edo Sate in general; our investigations have shown that the said report appears sponsored, unfounded, bias, far from the truth and a deliberate attempt for corruption and corrupt elements to fight back, a system that is fast closing up on them.
"It is an obvious fact that the SIB under SP Ngwokor Friday is aware of the existence of a criminal element perpetrating the purported crime against the State but refused to do their job as required by the law, because of their pecuniary gains from the crime, thereby compromising their job".

Going further, the group added, "Information at the disposal of the leadership of the Benin Solidarity Movement, BSM Worldwide, indicates the existence of systematic demonic plans by some unscrupulous elements within the State Police Command to fight against the good job so far done by the CP Abutu Yaro lead Edo State Police Command.
"We made bold to say, without mincing words, that CP Abutu Yaro's track records in combatting the multifarious crimes in Edo State is a public knowledge to all. Is it the crime busting technique or the combat readiness of the command that has restore peace, security and safety to the state we are going to talk about? We are aware that the stand of the CP Yaro will not go unconcealed by the rotten elements in the command like SP Ngwokor Friday and his type who belief that corruption must fight back.
"It is also our position that, because of the track records the CP Abutu Yaro has achieved in recent times in Edo State, our people now sleep with two eyes closed, and the kidnapping of citizens along the highways has reduced and we are saying No to this demonic plan and it will be highly resisted by us because this is tantamount to a ploy to change the course of Justice and promote crimes cum extortions in the Edo State Police Command."
BSM however queried that, "the officer, SP Ngwokor Friday and his team should as a matter of fact tell us how long they has been in Edo State and also tell us their team track records so far to compare with those officers of the anti-kidnapping and CIRRS whom he and his team are now accusing of compromising a crime that is still under investigation."
"As we will continue to resist crimes and criminalities in Benin Kingdom cum Edo State and Nigeria, we are therefore calling on the Inspector General of Police (AIG) to investigate the activities of SP Ngwokor Friday led SIB and other compromising units in the state command with a view to flushing out rotten eggs like this from the system."