Obasa Lists 3 Major Areas Lagos 2023 Budget Must Address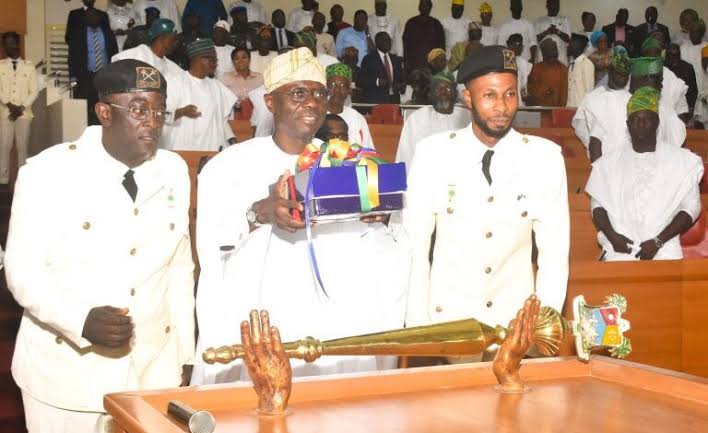 …As Governor presents N1,692,671tn Appropriation Bill
…Speaker says Asiwaju has capacity to make Nigeria great again
google.com, pub-3120625432113532, DIRECT, f08c47fec0942fa0
By Simeon OSAJIE
The Speaker of the Lagos State House of Assembly, Rt. Hon. Mudashiru Obasa, on Thursday received the 2023 budget proposal of N1,692,671tn from Governor Babajide Sanwo-Olu stressing that the Bill should address three areas for the benefit of the residents of the State.
The budget is with a capital to recurrent ratio of 55:45 percent.
Obasa, who noted some of the challenges currently facing Nigeria and its citizens, told Governor Sanwo-Olu: "The Year 2023 budget of Lagos should have more human face, be targeted at reducing poverty and improving the welfare of the residents of the State as part of the THEMES agenda that guides this administration."
He said that though the Lagos Government had achieved a lot in its effort to improve the development of the State, it should constantly be conscious that the residents yearn for more dividends of democracy.
Dr. Obasa stressed the need for the Federal Government to approve the allocation of one percent special status for Lagos considering its population and the constant influx of people to the State.
Noting that this was the last budget to be presented by the current administration before the 2023 election, the Hon. Speaker promised that the House would carry out its constitutional duty of scrutinising the proposal for the benefit of the residents of State.
While promising that the House would continue to support the Executive arm of Government to achieve a better, safer society, Obasa added, "there is, therefore, no doubt that in the remaining months leading to the end of this administration, so much more needs to be done; so much is still needed from us as the good people of Lagos yearn for more dividends of democracy, especially at this critical time."
The Speaker also urged Nigerians to vote for the candidates of the All Progressives Congress both at the State and the national levels as he described the Presidential candidate of the party, Asiwaju Bola Tinubu, as one who has the capacity to make Nigeria great again.