15 Students To Bag First Class Degrees In Edo State University Uzairue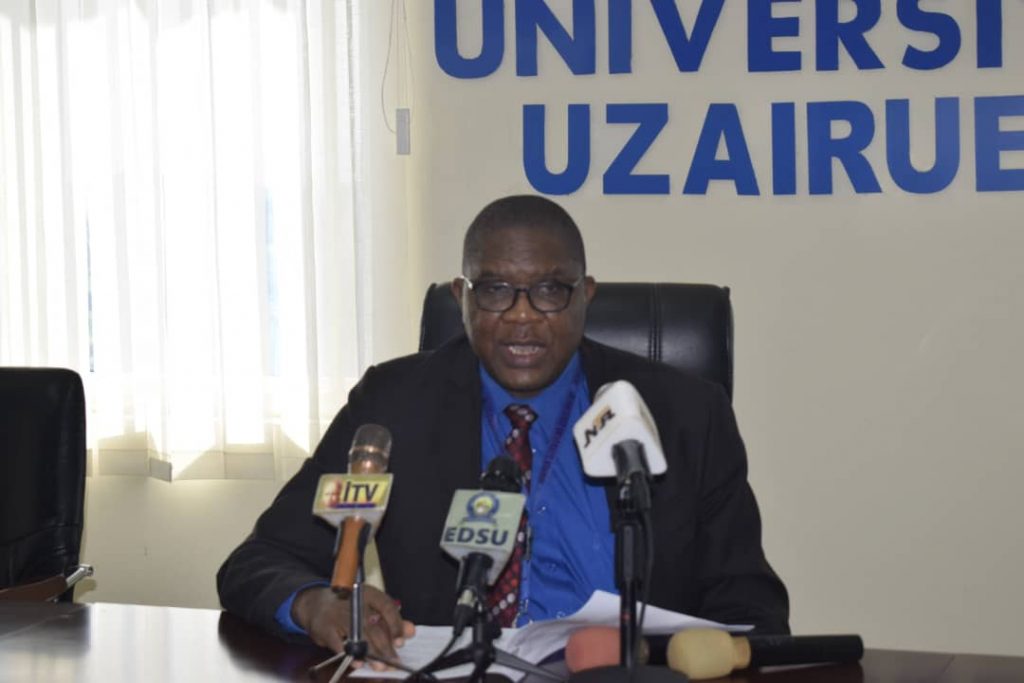 By Simeon OSAJIE
Fifteen (15) out of the 283 Undergraduate Students of the Edo State University Uzairue are to bag First Class Degree during the 4th Convocation Ceremony of the university slated for Saturday 5th November.
google.com, pub-3120625432113532, DIRECT, f08c47fec0942fa0
This was revealed by  the Vice Chancellor of the university, Prof. Emmanuel Aluyor during a press conference on the activities line up during the convocation ceremony.
According to Prof. Emmanuel Aluyor, out of 283 Undergraduate Students, 15 students will graduate with First Class Honours while 120 with second class (Upper Division) and 102 with Second Class (Lower Division), 11 students will be for Third Class adding that 26 and 9 students will receive Master Degrees and Post graduate degrees respectively.
"The university has remained in season  to graduate students despite several challenges of others universities in the country as Edo State University is equipped with seasoned qualified and dedicated staff with state-of-the-art teaching aids and has successfully commenced the 2022/2023 academic session," Prof. Aluyor said.
Going further, the Vice Chancellor added that the university has eight faculties such as Faculties of Arts, Management and Social Sciences; Applied Health Science; Basic Medical Sciences; Basic Clinical Sciences; Clinical Science; Engineering and Law.
He reiterated that the university has continued to maintain her policy of prize award of N5Million to the graduating student who has the best entrepreneurial business ideas saying that this year has joint winners for the N5M prize.
On the achievement recorded since the commencement of academic session in 2016, Prof. Aluyor said that the NUC have approved 500 quota for admission which has been increased to 1,906 while the student population in inception was 79 but have also been increased to 3,500.
He added that ceremonies line up during 4th Convocation ceremony of the University, will be conferring the award of Honourary Doctorate Degree (Honoris Causa) on a notable Nigerian, Alhaji Abu Inu Umoru for his illustrious career and contributions to the development of the state and county.
The Vice Chancellor have earlier highlighted some of the university's achievement since inception to include ranked 10th Best University in Nigeria and 2nd Best State University and Best University in the South-South geopolitical zone by the NUC 2021 ranking of the Nigerian University System.
According to the Vice Chancellor, "the university has the first medical training institution in Nigeria with an Anatomage table, which is the most technologically advanced Anatomy Visualization System for Anatomy Education and is used by the world-leading medical school for the training of medical students.
"First in West Africa to adopt the CANVAS Learning Management System which is used by 70% of Ivy League universities in the World; All Engineering programmes have been accredited by COREN.
"One of the Four Medical Training Institution in Nigeria with a Power Lab System for Teaching Physiology and Pharmacology; fully equipped world class studio for training Mass Communication Students, among others."