Group Rewards Echono As Most Outstanding Executive Secretary Of TETFund Ever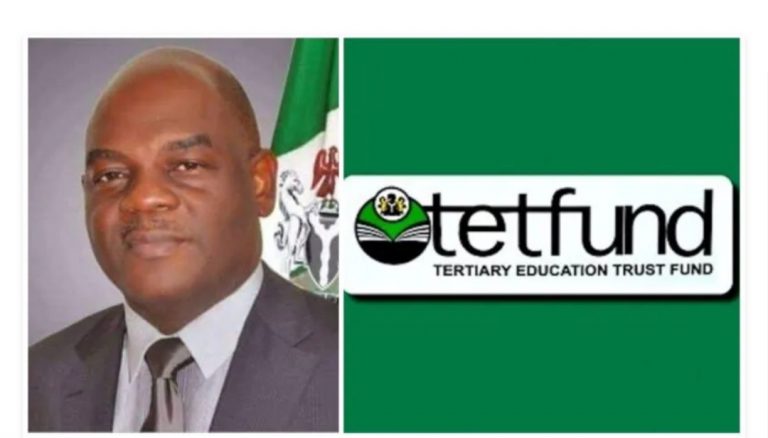 By Simeon OSAJIE
Niger-Delta APC Youth Group under the auspices of Niger-Delta APC Youth Vanguard has rewarded Arc. Sonny Echono, as the most performed and outstanding Executive Secretary of Tertiary Education Trust Fund, (TETFund) ever, on transparent execution of projects across tertiary institutions in the country.
google.com, pub-3120625432113532, DIRECT, f08c47fec0942fa0
Comrade Fiawei Pathfinder, who is the President and National Coordinator of the Group, led other members on a courtesy visit to Arc. Echono's Office in Abuja gave the commendation.
During the visit the group made a colourful presentation of its highest honour called Credence Of Honour to the Tetfund boss as the 'Most Performed and Outstanding Executive Secretary of Tetfund Ever', and also presented to him a 'Landmark Achievement Excellence Award For Meritorious And Selfless Service' to the contribution in the education sector and humanity in Nigeria.
According to Comrade Pathfinder; it became necessary group to come out and let Nigerians know what Echono is doing as he is using his wealth of experience and patriotism to galvanize infrastructural development in all Nigeria's tertiary institutions.
"The TETFund bosses has done well under the Buhari-led administration and deserve a commendation and therefore we are passing vote of confidence on him.
"He is a seasoned and astute administrator, a civil servant par excellence, a detribilized, patriotic Nigerian, a core technocrat with an untainted and incorruptible track record. He is a game-changer, he has rapidly upscale the capacity building of undergraduates, graduates and post-graduates as over 35,000 scholars have already benefited from the intervention funds under his leadership.
"TETFund under Echono is evolving, there is this zeal and passion in addressing the areas of implementing Special and Regional intervention projects, and programmes across all Federal and State owned Universities, Polytechnics and Colleges of Education, which are enlisted under the purview of TETFund.
On his part, the TETFund boss, Arc. Echono appreciated the group for the honour done on him and prayed for continuous progress of the Niger-Delta base volunteers.