Adun Emerges Ekewan Zone 1 Chairman Of Sawmiller Association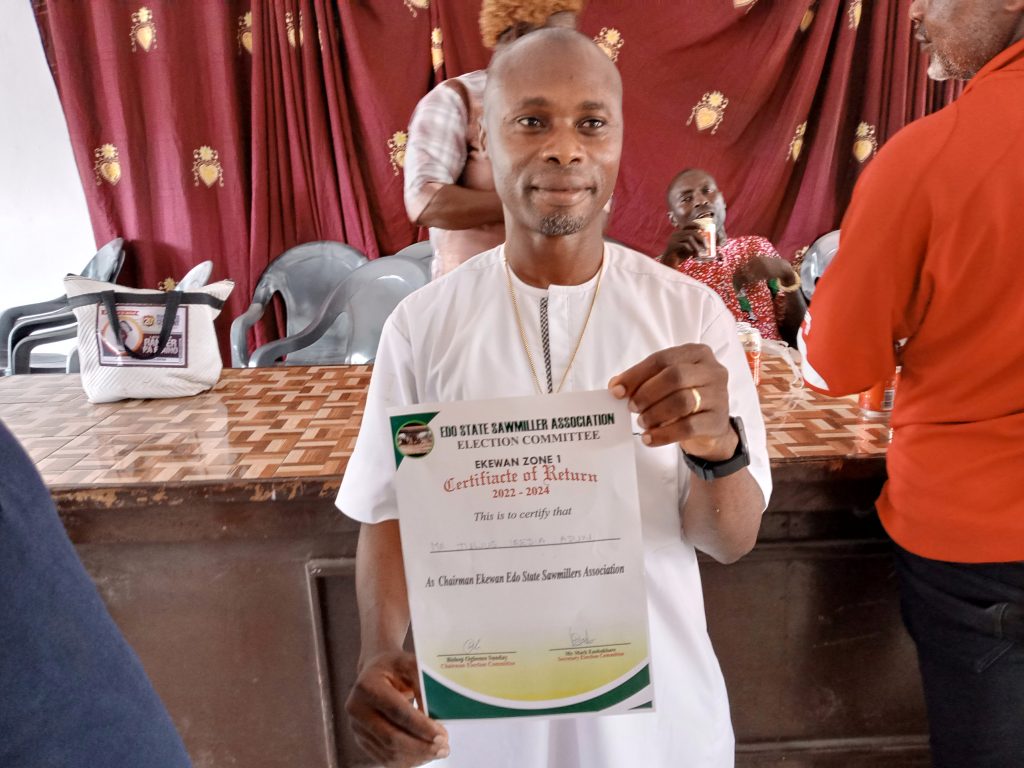 By Simeon OSAJIE
Julius Iredia Adun, younger brother of Chief Osamede Adun, has emerged the Ekewan Zone 1 Chairman of the Sawmiller Association in Edo State.
google.com, pub-3120625432113532, DIRECT, f08c47fec0942fa0
Comrade Adun won the election with a total of 19 votes to beat his rival, Gbami Godspower who scored 9 votes.
Speaking to newsmen after the sworn in ceremony, Comrade Adun said, he is going to do everything possible to work with the State President of Sawmiller in the State to ensure illegal activities are tackle in the trade.
He also lamented about the high taxes that are leveled against members of the Association, describing it as unfair in the trade and vowed to put an end to the illegal taxes collecting by some unknown indigenes of the area.
Amb. Iredia Adun described the process of the election as free, fair and credible because there was no fight, insult, quarry and rancour during the whole excecrise.
He said as the newly elected chairman, he is going to carry everybody and his people along to ensure there is peace among them, and in their various businesses as sawmillers.
When asked how he intends to curb the illegal tax collection fake government tax collectors, Iredia Adun said, "Ekenwan road is a very critical area, because there is double tax from those in authorities, those who called themselves indigenes in the premises. They continue oppressing the Sawmillers Associations. That is why l offered myself to contest for chairman. I will be the Chairman to make sure we put an end to the manner and way of these illegal activities."
Given the breakdown on how the election was conduct, Chairman of the Electorial Committee, Bishop Sunday Ogbomo said, Iredia Adun won with 19 votes, against his opponent Gbami Godspower who got 9 votes.
According to Ogbomo, "All votes cast were 28 votes. The winner scored 19, while his run off scored nine votes."
"I conducted the last State election and as a result of the transparency that played out, and how it was done, the Chairman said I should retained the position to conduct the rest elections across the 18 LGA that make up Edo State."