I May Not Be Alive, But If Nigerians Vote Tinubu, They Will Suffer – Adebanjo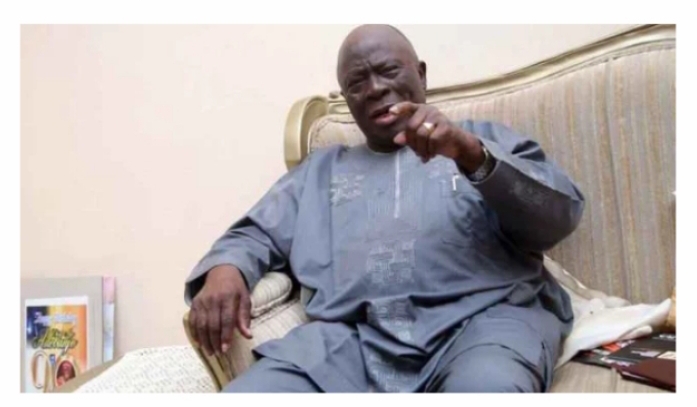 By Editor
The acting leader of South-West group, Afenifere, Chief Ayo Adebanjo has cautioned Nigerians not to, on no circumstance should they vote for the presidential candidate of the All Progressives Congress (APC), Bola Amend Tinubu, but if they made the mistake, Nigerians will suffer, has he continued to drum his support for the presidential candidate of the Labour Party, Mr. Peter Obi.
google.com, pub-3120625432113532, DIRECT, f08c47fec0942fa0
Speaking in an interview on Arise TV, Adebanjo submitted that at 94, he may not be alive but Nigerians will live to suffer if they vote for any presidential candidate other than Mr. Obi.
Reacting to the interview, a concerned Nigerian @lcebabio on Twitter wrote: "Mehn, Pa Adebanjo made me shed a tear. Pls Nigerians vote wisely. He says you all will suffer if you choose wrong while enjoy in the grave. At 94 I have nothing to lose. Pls Northerners and southerners l beg you don't sell ur conscience for pottage. "
@Strong Truth: "Pa Adebanjo makes me so proud to be a Yoruba man, I pray Obi emerge as the president of Nigeria come 2023. God bless you sir for speaking the truth to Nigeria."
@Yufsci: "Pa Adebanjo at 94 is d only sensitive and sensible living Yoruba all others are just foolish bigot, l go survive if Batiku becomes president, my problem is just d rebirth of new euphoria in Nigeria politics will be postponed where we choose the best over religion and ethnicity."
"As you saw yesterday, it goes without saying that Jagaban was accepted. Obi has no stand in our mind at all."
Faroranti also stated that the meeting of the socio-political organisation would henceforth hold in Akure, capital of Ondo State and that the leaders of the group would no longer converge on Isoya Ogbo, ljebu home of Chief Ayo Adebanjo.
He added that the group never endorsed the Labour Party's presidential candidate, Mr. Peter Obi, for the 2023 presidential election, who was an endorsed candidate of Pa Adebanjo.
Reacting, Adebanjo laughed at Fasoranti's statement, saying that they were waiting to see who would attend any Afenifere meeting in Akure, Pa Fasoranti's hometown.
In Adebanjo's words, "No problem. Let them hold the meetings in Akure and see the number of people that will attend.
"l am the leader of Afenifere. They are just trying to cause confusion and | won't help them to do that. If he says people should not come."