2023: Oshiomole And Unending Electioneering Rascality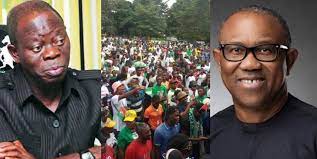 By Chris Akhabue
The three senatorial districts that made up Edo State were beehive of activities last Saturday the 12th of November as two major political parties, the All Progressives Congress (APC) and the Labour Party (LP) were billed to have their rallies in parts of the state.
google.com, pub-3120625432113532, DIRECT, f08c47fec0942fa0
The Presidential flagbearer of Labour Party (LP) Mr. Peter Obi was expected to meet with the Otaru of Auchi, HRH Alhaji H.A Momoh in Auchi, and also address his supporters at Ikelebe Sports Ground in Auchi before coming to Uromi to also meet with the Onojie of Uromi, His Royal Highness, Anselm Aidenojie II and other Enijies of Esanland after which his campaign entourage was expected to move to Benin City, the State capital to continue with his visitations in preparation for the campaign for the presidential election.
On the other hand, the APC candidate for the Edo North Senatorial district, Comrade Adams Aliu Oshiomhole was also scheduled to hold his campaign rally in Auchi, miles away from where Mr. Peter Obi was scheduled to hold his campaign rally.
Oshiomhole in his usual characteristic of being unable to restrain himself from crossing the lines, told his supporters in his campaign ground that Peter Obi holding his campaign on the same day with him in "his land" was an affront that must be dealt with decisively.
Employing large doses of local parables to whip his supporters into a frenzy, the comrade governor then led them in a match to the venue of the LP rally as a test of strength and to also let the "stranger' (Obi) know who "owns the land'.
He mobilized his supporters to the venue where Peter Obi was billed to hold his rally and took over the space even though the two venues were miles apart.
I have always held Comrade Oshiomhole in very high esteem as a Statesman and as my former governor.
However, it is still fresh in our memories how Oshiomhole squandered all the goodwill of Edo people all because of his personal strength of character that are sometimes inimical, antithetical and at cross purpose with his objectives.
Adams Oshiomhole, former Labour President, former governor of Edo State, former chairman of the All Progressives Congress, now, APC senatorial candidate for Edo North, discarded all known and acceptable composure and decorum to fan the ambers of ethnic and tribal incontinence by vociferously mobilising thugs to bully "the stranger" out of "our land".
Oshiomhole's weaknesses which have always been his personal albatross had the better part of him on that very Saturday.
He carries an air of a god that must be obeyed. Every opposing voice, to him, is an opposition and enemy that must be crushed.
One wonders if he, Oshiomhole, ever imagined the enormity of his brazen infringement and the possible consequences of his action of leading other people's innocent children to forcefully pursue Peter Obi and his supporters out of a venue they may have paid for to host their event.
Just imagine what would have happened if the Labour Party supporters had stood their ground. Of course, so many innocent people would have possibly been killed if there was a clash between the opposing supporters just because of one man's selfish ego.
Mobilizing his supporters to take over the campaign ground of Peter Obi is height of lack of self-refrain and lack of decency or decorum. Had Peter Obi's supporters resisted that brute infringement, you can imagine the possible outcome of violence simply because one man wanted to prove a needless and irrelevant point.
Don't do to others what you would not like others do to you. Would Oshiomhole tolerate what he did to Peter Obi?
Oshiomhole should be told at this early stage in the electioneering that it is not by force to represent his people at the Senate. Tell the people what you would do if elected and let them decide to vote for you or not. Stop this needless and childish display of brute force that portrays an adult to look far away from decency. It is uncivilized and capable of creating undesirable precedence that could make the coming general elections violently problematic.