Itsekiri Youth Protest, Demand NDDC Chairmanship Position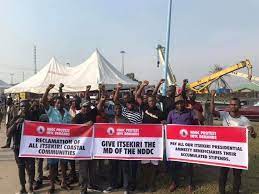 By Simeon OSAJIE
The Itsekiri youths under the auspices of the Itsekiri National Youth Council (INYC) has staged a peaceful at the front of Nigeria Port Authority (NPA) in Warri, the headquarters of Warri South Local Government Area, Delta State.
google.com, pub-3120625432113532, DIRECT, f08c47fec0942fa0
The youths in their numbers gathered at the entrance of the Nigerian Ports Authority chanting solidity and carrying placards with various inscription bearing reasons of the protest which included grievances of the youth against the federal government for not making an Itsekiri indigene boss of the Niger Delta Development Commission (NDDC).
They also complained of the non-implementation of development project in Itsekiri Communities, non-payment of amnesty stipends to the beneficiaries of the Itsekiri nationality, among others.
Speaking to newsmen at the protest venue, President of the INYC Isaac Oritseweyinmi Agbateyiniro said that the protest was to address the marginalization of the Itsekiris by the Federal Government by excluding them from holding key position in the NDDC broad.
He described as discriminatory and provocative to the people based on their contribution in the oil and gas sector of the economy which is the major revenue of the country.
The INYC President said: "Since the inception of the Buhari administration the Itsekiri nation has been not be given any ministerial and MDA appointment because all appointment resides in the prerogative power of the office of the president and he give it to who he wishes without considering the stakeholders."
He swore that this time the Itsekiri youths will surely resist the latest appointment of the new NDDC boss with this protest as long as it take the Federal government to listen to them.
Also speaking to our correspondence was Mr. Philip Ejutse, who alleged that the Itsekiri nation is the largest producer of crude oil and gas in Niger-Delta but little or no development is seen in the area, because they have been silent for too long. Stating that the protest is to break the silence and called on the federal government to do the right thing.
According to Ejutse, the protest is to last for a minimum of three days and more till NDDC broadsides representatives to address the issues. He also explained why the protest was staged in the Nigerian Ports Authority because it is a federal government facility and will attract quick attention.