LP Raises Apprehension Over Demolition Of Billboards, Posters, Banners Of Candidates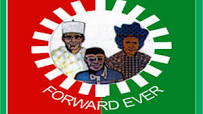 By Simeon OSAJIE
The Edo State chapter Of Labour Party (LP) has raised alarm over the malicious destruction of its candidates' campaign Billboards, Posters and Banners
in the state.
google.com, pub-3120625432113532, DIRECT, f08c47fec0942fa0
In a press statement issued and signed by Comrade Sam Oroupa, Publicity Secretary of the party, understood the candidates campaign billboards, posters and banners are been destroyed by people who claimed it is directives given to them from above.
Oroupa said, "our candidate for Oredo Federal Constituency, Engr. Esosa Oroupa Iyawe billboards along Airport road, Akenzuwa road, Ekenwan road and environs duly paid for have been pulled down by the Oredo Local Government Council and warned the billboard agent not to hang any Labour Party content on them. The billboard agent who said his business is been threatened if he does otherwise only agreed to make a refund to our candidate.
"Also in Esan Central Senatorial District, our House of Assembly Candidate, Hon. Oses Emmanuel Eromosele billboards he constructed by himself in strategic locations were all removed and taken away by the Head of Service of the Council. When contacted he said, it was directive from above.
"The office of the Party secretariat has been drawn to the series of attacks on Labour Party candidates, party faithfuls and the Obidient movement in the state."
Going further, he added: "it is most worrisome is the fact that we were earlier denied the use of the Samuel Ogbemudia Stadium for rally to host our presidential candidate Mr. Peter Obi and his running mate Datti Yusuf.
"It is worthy of note that these are happening after Mr. Godwin Obaseki has some time ago openly declared during the inauguration of his factional state PDP presidential campaign council, that those who call themselves obedient in the state will soon run out of steam."
"We are worried as a party if this abrasiveness and hostile nature towards our candidates and members is what they have planned by saying we will soon go of steam?"
Oroupa adding that, "as a party we have observed that the unfolding events in the State is a direct attack on democracy to deny the people from making free choices.
"We are social democrats who believes that it is still possible to conduct the affairs of party politics on identifiable ideology of progressive issues based campaign.
"We are therefore calling on all well-meaning Nigerians, Edolites and the security agents to please call the PDP led government in the state to order not to truncate democracy but a peaceful atmosphere to allow the people freely make their informed decisions to elect who leads them."