Edo Convicts Two Drivers For Traffic Offences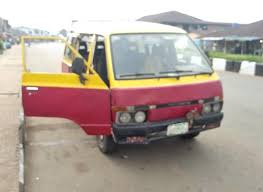 …Erring drivers bag 50,000 fine, psychiatric evaluation
By Simeon OSAJIE
google.com, pub-3120625432113532, DIRECT, f08c47fec0942fa0
A Mobile Court sitting in Benin City has convicted two drivers in the metropolis for violating the state's traffic laws.
The drivers are among those apprehended by the Edo State Public Works Volunteers (PUWOV) for driving against traffic (one-way), in a renewed effort to restore sanity on roads in the Benin metropolis.
The offenders are Paul Robert, a Mitsubishi Bus driver with Vehicle Number RSH 514 XN and Mr. Tobechukwu Miracle, a Mitsubishi Bus with Vehicle Number BEN 12 ZZ.
The erring drivers were sanctioned with N50,000 and Psychiatric Evaluation each.
While addressing newsmen in Benin City, the Edo PUWOV Coordinator, Mukhtar Yusuf-Osagie, reaffirmed the government's commitment to restoring sanity and order on roads within Benin metropolis.
Urging motorists to comply with the state's traffic rules, the PUWOV Coordinator said the government will sustain the campaign against one-way driving in the metropolis, ensuring all offenders are arrested and duly prosecuted.
He charged, "Traffic laws are in place for the safety of all individuals on the road. Not only do these laws protect you and your passengers, but they also protect other motorists, and must be duly complied with to ensure safety on our roads. Violations such as over speeding, driving against the traffic and all other forms of reckless driving put everyone at risk and will no longer be tolerated.
"We are encouraging other road users and motorists to report drivers who ply one-way on our roads. Members of the public can record motorists disregarding traffic regulations on our road and send videos of the recording to the WhatsApp Number: 08132030846."
He added, "When we get video recordings of such disregard of the state traffic rules, we will ensure we apprehend the drivers to face prosecution. We will continue to make efforts to ensure the free flow of traffic on our roads."