Land Grabbing: Between The Communities And The Committee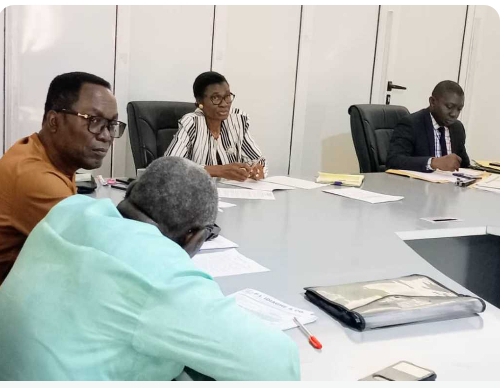 By Ijeoma UMEH
The Edo State Private Properties Protection Committee headed by Hon. Justice Alero Edodo-Eruaga (Rtd) has continued to receive commendation for the onerous task of restoring peace across Edo communities.
google.com, pub-3120625432113532, DIRECT, f08c47fec0942fa0
Edo people are taking to various social media platforms to express confidence in the ability of the Committee to equitably dispense justice over land disputes, with some describing it as "a legacy initiative for which posterity will remember Governor Obaseki for good."
The Committee, on average, hears 20 cases at every of its sitting in Government House, Benin City, all bordering on disputes over land and issues around land grabbing.
The petitions often come like a deluge, and the prayers are constant: petitioners seeking to recover land in contention and respondents seeking to retain land in dispute.
The quasi-judicial Committee since it was set up in February 2022, has been reaching landmark resolutions over land disputes, reconciling warring communities and restoring peace in family settings hitherto disintegrated over siblings rivalries that lingered over land disputes.
The Edo State Government maintains its stance, and is determined, to recover land grabbed from both government and the people, and recently, the state government demolished structures built on government acquisition at Irhirhi-Obazagbon-Ogheghe axis in Benin City.
With the Edo State Private Properties Protection Law 2022 in force and as a veritable instrument to pursue justice, the Edo State Government is poised to recover properties from those it has labeled as land grabbers, and has even proceeded in publishing in national dailies list of those found culpable in land grabbing activities across Edo communities.
It is interesting to note that land remains an integral asset among the indigenous people, and this cuts across communities. Issues around its ownership are major causes of communal crises, even among blood relatives.
Why is land so treasured?
Some community leaders say there is over dependence on land where youths are mostly not meaningfully engaged.
Some also suggest that land is an important asset for farming where most indigenous people are farmers, even as others, like Chief Henry Osato Bazuaye, former Burser, the University of Benin, Ekenwan Campus, stated that some people have penchant for an uncanny acquisition of property for keeps to the extent of harming others in the process, while others regard land as a valuable inheritance to be bequeathed to family.
For many, land is a worthwhile investment to trade on, due mainly to the fact that it is known to appreciate in value.
For many community people, Land is owned and should be protected by tidying up all necessary documents, deed of transfer, survey plan, even the coveted C of 0, while others simply do nothing else than choose any land, trespass into it and take possession of it, and the daring encroacher who would go ahead to seize part or all of the land even dares to stand in litigation to retain it.
It is in witnessing how the Committee is painstaking and methodical in hearing and resolving these cases that the brazen boldness of some indigenous people over land grabbing stares one in the face!
Even with the preponderance of the weight of evidences before the Committee, both Petitioners and Respondents still make frantic efforts to prove their case, with documents and witnesses to boot; while some documents and signatures may be falsified, or signatures superimposed in old documents; for the desperate land grabber, it hardly matters.
However, to the Edo State Private Properties Protection Committee, scrutiny meets eyeball to eyeball with chivalry.
Determined to restore peace and harmonious living across communities in Edo state, its mantra is clear: that justice is truly served in all land dispute cases brought before it.
Diligent and focused in discharging this task, the Committee employs alternative dispute resolution mechanisms as key element in settling issues but does not hesitate in charging to a court of competent jurisdiction matters which are beyond its powers or referring matters to the Palace of the Benin Monarch for clarification where matters of legality and tradition come into conflict, an example is the case of HRH Enogie Festus Notiemwonmwan Aiyeki Osagiede whose subjects say has no jurisdiction over their community, Evboro Village, one of 8 communities which he says are under his jurisdiction.
The Committee has written to the Palace of the revered Benin Monarch seeking clarification on the matter, vis-a-vis to determine if the community in question is under the Enogie's jurisdiction.
The Edo State Private Properties Committee also gives parties opportunities to exhaust all options through the council of elders, the Enigie, Odionwere, Okaeghele and even inviting as witnesses community leaders who held offices in the disbanded Community Development Association (CDA).
The Committee, with its array of distinguished members, including AIG Austin Agbonlahor (Rtd), Dr Olu Ayewoh, ESV (Elder) Julius Uhunamure, Chief Osaro Idah, Nosa Omo-Osagie Esq, also works in concert with other Ministries, Departments and Agencies of Government, like the Edo-GIS for the verification and authentication of documents tendered as evidence before it, Ministry of Physical Planning, Urban, Housing and Rural Development, and other professionals in the built environment, like surveyors, architects, among others, to dispense justice.
In a recent case before the Committee, in order to put matters to rest over confusion regarding areas of interest, it commissioned an Independent Surveyor to work with available coordinates from initial survey plans of the land in dispute tendered as evidence and compare his findings with documents tendered in order to give parties a clear guide on areas of dispute.
The Surveyor, Stanley Egugu, appeared before the Committee on Tuesday, January 24, and read his findings aloud before the Committee and the parties concerned.
While one of the parties expressed dissatisfaction over the independent Surveyor's report and stated that he would still go ahead to get another Surveyor, the Committee gave him a nod to do so, with a caveat: "Ensure your Surveyor is qualified, registered and licensed to practice. Also furnish this Committee with his details to do our own background check. " Hon. Justice Eruaga stated. How else can being meticulous be!
For this Committee, swimming with the tide is inevitable, and it is gliding nicely.
Sitting continues in Benin City.