Eight Lost Their Lives After Truck Fell On Bus In Lagos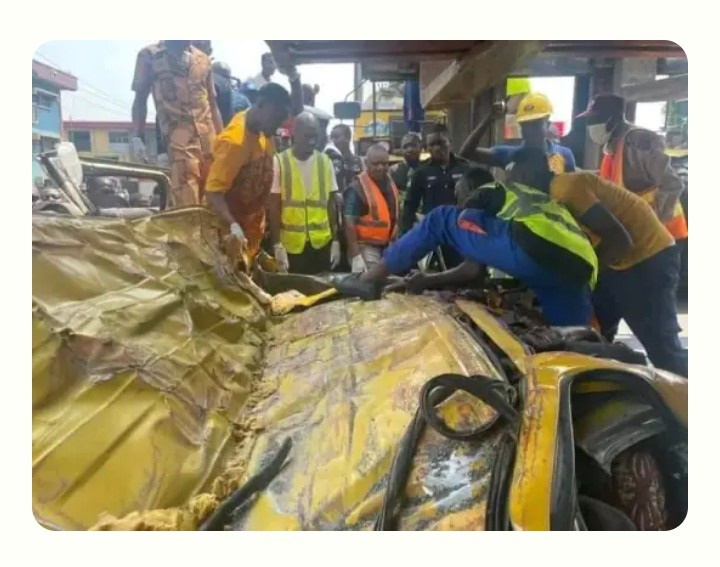 By EDITOR
Eight people reportedly lost their lives at Surulere Local Government Area of Lagos State when a container laden truck fell on a commercial minibus in the area.
google.com, pub-3120625432113532, DIRECT, f08c47fec0942fa0
Information reaching The9JaTREND revealed that one of the passengers, an adult female, was fortunately rescued alive and rushed to a nearby hospital for treatment.
An eyewitness, who spoke on condition of anonymity, said that the incident which happened at around 12.00pm, led to gridlock in the area as emergency responders battled to put the situation under control.
The operatives of the Lagos State Emergency Management Agency, the Lagos State Police Command, Lagos Fire and Rescue Command, and other emergency responders were seen at the scene of the incident trying to salvage the situation and remove the blocked from the road.
The incident was confirmed by the Permanent Secretary of the Lagos State Emergency Management Agency, Dr. Femi Oke-Osanyitolu, stating that normalcy has been restored in the area.
According to Oke-Osanyitolu, "Upon arrival at the scene, a truck conveying a 20ft container was found to have landed on top of a commercial bus.
"Further investigations revealed that the bus was picking up passengers when the truck lost control and fell over the side of the bridge.
After suspending the container load with the aid of the Agency' s forklift and cutting off the top of the bus with light rescue equipment, a single adult woman was extricated alive and taken to the trauma centre."
Oke-Osanyitolu further stated that nine persons died in the incident, comprising of four adult males, three adult females, one male child and a female child, while one adult female was rescued alive and taken to the hospital.
Oke-Osanyitolu said that police operatives are currently trying to remove the barriers on the bridge which is preventing trucks from ascending.