Delta CSOs Barricade East-West Road Over Okowa's N120b Loan Bid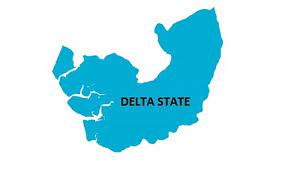 By EDITOR
Members of Civil Society Organisations (CSOs) in Delta State has cautioned commercial banks against giving loans to the state government.
google.com, pub-3120625432113532, DIRECT, f08c47fec0942fa0
The protesters accused the Ifeanyi Okowa-led government of mortgaging the future Deltans yet unborn with huge debts.
They barricaded a section of the East-West Road and displayed placards with inscriptions such as "Don't mortgage Delta," "We say no to N120 billion loan."
The protesters, who disrupted vehicular movements along the road for minutes, warned that any bank that gives a loan to the state government would be doing so at its own risk.
Urhobo Progress Union (UPU) youth wing President, Kelly Umukoro and President of the Committee for the Defense of Human Rights (CDHR), Kehinde Taiga, spoke with reporters in Warri.
Umukoro said: "We have seen that the present state government wants to sell us for the future of their children and themselves. You have a few months to leave government, and you are borrowing another N120 billion.
"Is it that we are sponsoring Okowa's ambition to be a vice president with Delta State money? Did we have any meeting as Deltans to say we want to use our treasury to sponsor Governor? Okowa, who has not been able to improve the lives of Deltans?
"No infrastructure, for eight years you have been able to do one flyover and you are celebrating it. What does he need this money for? The answer is simple, he needs it to oil his vice presidential ambition.
"As critical stakeholders, we are saying no, never. We are saying our children cannot pay a debt that was not used by their fathers.
"Okowa should have pity on us. Delta owns a State University in Abraka, school fee was increased. Delta state university is like a private university where students pay N250,000.
"With all the ways of getting money, the governor is still interested in taking more loans. As Deltans, we are saying any bank that gives a loan to Okowa is doing that to their detriment. If they are doing a giveaway, they should make it clear.
"We are not going to pay. We are demanding that banks should not give Okowa any more loans because the money in his coffers, he has not been able to use it judiciously."
President of CDHR, Taiga noted that despite huge allocations to the state, as well as internally generated revenues, the state is still underdeveloped.
Another protester, Onoriode Emmanuel, expressed dissatisfaction with the level of development in the state.
He described the Delta State House of Assembly as a rubber stamp of the state Executive.