Banker Allegedly Broke Leg In Attempt To Escape Customers Protest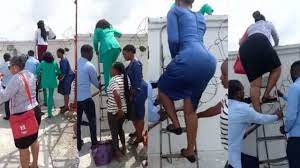 By Simeon OSAJIE
A male banker in one of the new generation banks in Okurode (Ekurede Urhobo)/Ogunu area in Warri South Local Government Area of Delta State, was alleged to have gotten one of his legs broken in an attempt to escape from aggrieved customers on the prevailing naira scarcity.
google.com, pub-3120625432113532, DIRECT, f08c47fec0942fa0
It was gathered that the aggrieved customers had besieged the gate of the said bank in their numbers, threatening hell and brimstones if they were not given their monies.
Overwhelmed by the threats of the customers behind the well protected gate, the glittering staff, including the said male staff allegedly decided to outsmart the protesters by jumping over the barbed wire fence at the back of the bank for an escape.
However the said male banker who was said to be the first to make the lifesaving mission had a bitter experience as he was said to have landed on a wrong footing and got one of his legs broken in the process to the discouragement of his colleagues that were yet to take the foolish risk.
A source disclosed to our correspondent that the estranged banker was in an undisclosed hospital with his broken leg on POP.
However when the Police Public Relations Officer( PPRO )Delta State Police Command DSP Bright Edafe was contacted for confirmation, he said that he was unaware of the incident at the time of filing this report.
Meanwhile the naira crisis was far from being solved as all the banks monitored by our correspondent in Warri and Uvwie Local Government Areas were besieged by angry customers who were locked outside the gates of the said banks.