Edo Police Command Declare Canada Based Nigerian Eboni Rachael Osazee Iyonmana Wanted Over Cyber Stalking
By Simeon OSAJIE
Edo State Police Command has declared wanted one Eboni Rachael Osazee Iyonmana in lieu of allegedly defaming Comrade Festus Alenkhe, Chairman of the Nigeria Union of Journalists (NUJ), Edo State Council.
google.com, pub-3120625432113532, DIRECT, f08c47fec0942fa0
While addressing journalists at the State Command Headquarters, Benin, the Police Public Relations Officer (PPRO), SP Chidi Nwabuzor, said the said Eboni Rachael Osazee Iyonmama is a Nigerian based in Canada.
According to Edo State Image Marker, Mr. Alenkhe said the complainant woke up to see a publication on the internet credited to the Canadian based Nigerian accusing him of kidnapping and other crimes capable of tarnishing his reputation.
"This is a special press briefing that bothers on offences under cybercrime acts and the Commissioner of Police has ordered for this investigation.

"On the 10th of January, 2023, the current chairman of the Nigeria Union of Journalists, (NUJ), Edo State Council, Comrade Festus Alenkhe, woke up to see a publication on the internet by a lady known as Rechael Eboni Osazee Iyonmana.
"It appears that the lady based abroad and as we know that the world is a global village, anybody can communicate from one angle of the world to another angle of the world.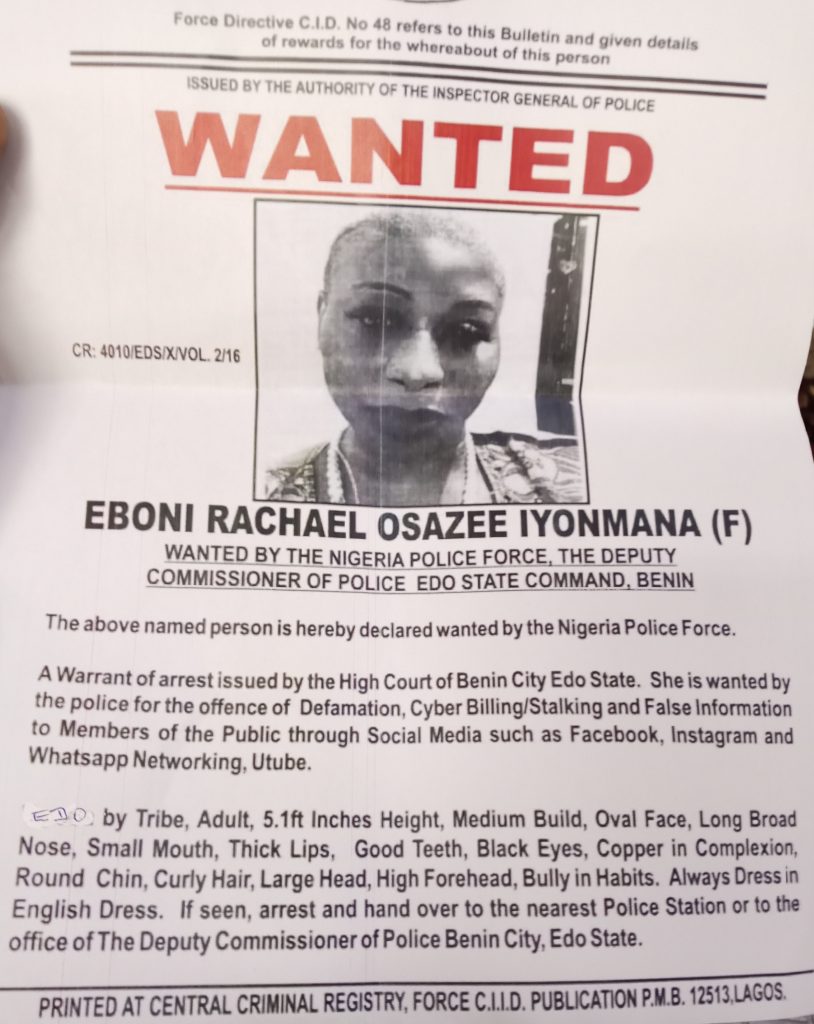 "That is why the complainant woke up on that 10 of January, 2023 to see a publication that was against him.
"And the cases we have here under what the suspect has done are defamation of character, cyber bullying, cyber stocking, false information, obscene publication."
The lady blackmailed the complainant, Festus Alenkhe that he is a kidnapper, that he goes about wooing ladies and siphoning their accounts, their hard earned money.
"These were the offences she alleged. But we all know that, that amount to the offences that I just mentioned, defamation of character, cyber bullying, cyber stocking, obscene publication and false information" Nwabuzor said.
SP Nwabuzor maintained that the Canadian based Nigerian lady has the right to make her complain of any harassment, extortions, kidnapping to Inspector General of Police for necessary actions rather than going about maligning him
"And as an educated person as she claimed to be, one would have supposed that she goes straight to the police and file a report to the Commissioner of Police or at the level of the Assistant Inspector General of Police zone 5 headquarters or even the inspector general of Police for investigation.
"She can't be a judge in her own case by trying to maligning the character of this personality that we mentioned.
"As I know, Festus Alenkhe is the current chairman of Nigeria Union of Journalists, Edo State Council", he said.
According to SP Chidi Nwabuzor, a warrant of arrest issued by the High Court of Benin City Edo State. She is wanted by the police for the offence of Defamation, Cyber Billing/Stalking and False Information to Members of the Public through Social Media such as Facebook, Instagram and Whatsapp Networking and Youtube.
"Edo by Tribe, Adult, 5.1ft Inches Height, Medium Build, Oval Face, Long Broad Nose, Small Mouth, Thick Lips, Good Teeth, Black Eyes, Copper in Complexion, Round Chin, Curty Hair, Large Head, High Forehead, Bully in Habits. Always Dress in English Dress. If seen, arrest and hand over to the nearest Police Station or to the office of The Deputy Commissioner of Police Benin City, Edo State," he said.