WICKEDNESS: Kidnapper Hanged His Victims To Death On The Tree After Collecting Huge Ransom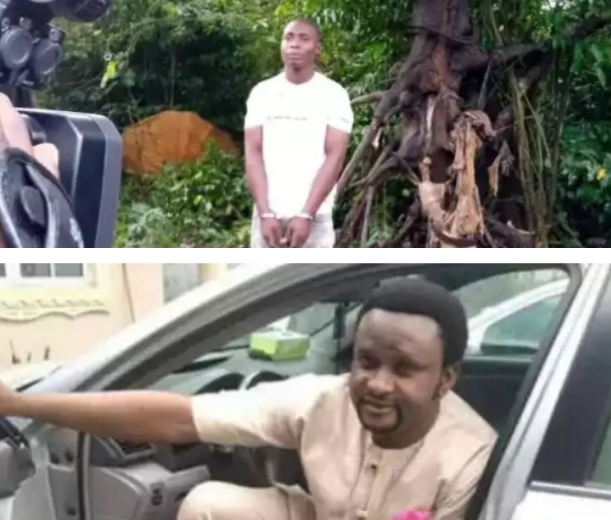 By EDITOR
A notorious kidnap members were caught by police operatives of the Anti-Kidnapping unit of the Rivers State Police Command for allegedly hanging one Mr. Ereba Dinabari on a tree till he died after collecting !the ransom of N1 million for his release.
google.com, pub-3120625432113532, DIRECT, f08c47fec0942fa0
The suspects who were identified as Osundu Uchendu – aged 25 and Amebulem Amos – aged 23, were apprehended during a traced up operation on Dinabari's abduction, which occurred at Woji in Port Harcourt city of the state.
The police men traced the suspects to Okrika Local Government Area of the state, where they were taking refuge.
Reports had it that the victim was killed following a misunderstanding between the gang leader and his men who felt the victim failed to pay the certain amount of ransom, not knowing that the leader had already gotten the money.
The victim was kept in the forest for five days and on the fifth day, the heartless men hung him on a tree in a forest at Alesa, Eleme Local Government Area of the state, where he gave up the ghost slowly and his body turned to skeleton.
After series of interrogations, the suspects took the police team to the forest where the victim was murdered.
When operatives of the Anti-Kidnapping unit and the Police Public Relations Officer, Nnamdi Omoni, were taken into the forest by the heartless men, the victim's decomposing body was recovered by the police hanged and tied to a tree while the skull was seen on the ground.
It was a very sad experience that the police assured the suspect will not go unpunished.
The suspect confessed the have been using that same forest to commit their nefarious activities and also the have been kidnapping and killing people for a very long time.
Meanwhile the suspect have given useful statements to the police and they will be charged to court.