We Will Reclaim Our Mandate, Datti Assures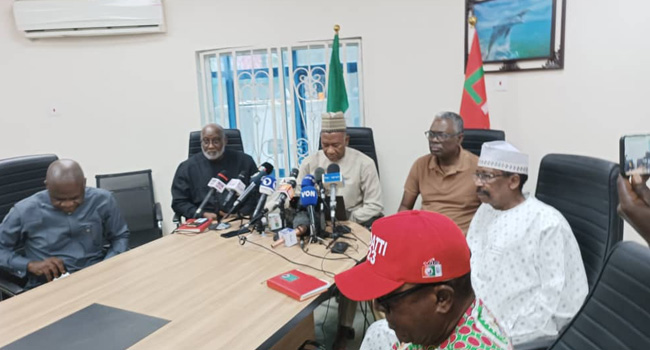 …Urges supporters to vote LP candidates in Gubernatorial, House of Assembly Polls
By Simeon OSAJIE
google.com, pub-3120625432113532, DIRECT, f08c47fec0942fa0
The Vice Presidential candidate of Labour Party (LP), Datti Baba-Ahmed has called on Nigerians to remain calm, urging supporters to vote for the party next week's gubernatorial and the house of assembly polls, while his principal, Mr. Peter Obi and the entire  Obidient family are working towards reclaiming the overwhelmed mandate given to Labour Party during February 25, general elections.

Datti said this during a press conference in Abuja on Wednesday, hours after the Independent National Electoral Commission (INEC) declared Bola Tinubu as the winner of Saturday's elections. 
He was accompanied at the press conference by Labour Party chieftain.

While the party has rejected the polls and its supporters claim the exercise was compromised, the LP chieftain said his principal will speak in due time.
But he assured their supporters of seeking legal redress while calling for calm, insisting that the election was not free and fair.
According to Baba-Ahmed, "I am calling on the judiciary to prove themselves to be impartial when the case gets to the court, wondering how the results for the Presidential and National Assembly elections were collated when they weren't transmitted electronically."
"No amount of pressure would get the Labour Party or its agents to preach against peace," he maintained, adding that despite the outcome of the poll, they still have hope in Nigeria.
Datti said, the LP will continue to hold the President Muhammadu Buhari administration accountable for a free and credible election and remains optimistic of a great outing come March 11 when the gubernatorial and house of assembly exercise takes place.
The LP vice presidential candidate, however, dismissed speculations of a merger with the Peoples Democratic Party (PDP). He insisted that the party is fighting for its mandate alone.