Lagos Train Accident: BRT Staff Bus Driver Arrested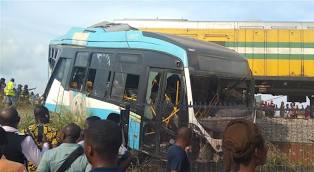 By Simeon OSAJIE
Driver of the Lagos State Government BRT staff bus involved in an accident with a train has been arrested.
google.com, pub-3120625432113532, DIRECT, f08c47fec0942fa0
Recall that the accident happened between Shogunle and Ikeja axis, leaving many people dead and injured.
The bus was conveying civil servants and their dependants from Isolo area of the State to the State Secretariat Alausa when the incident occurred.

While addressing newsmen shortly after visiting the injured at the Lagos State University Teaching Hospital, LASUTH, Ikeja, Governor Sanwo-Olu hinted that Eighty Five People were involved in the accident out of which Forty Two had moderate injuries, Twenty Nine, serious injuries, Eight with mild injuries, Six deaths, Two recorded at the accident scene, with Four additional later.
Governor Sanwo-Olu also declared that work stops at noon tomorrow, Friday for all Civil Servants in the state and directed that flags be raised at half mast, tomorrow, Friday, 10th March while all campaign activities have been suspended for the next three days.
The Governor also commended all responders, Staff of Lagos State Teaching Hospital, LASUTH and Security Agencies for their prompt response, as well as his two political opponents, Mr. Jide Adediran and Gbadebo Rhodes-Vivour for also visiting the victims, noting that Lagos has the capacity to tackle emergency.
He said investigation into the incident is ongoing as he appealed and encouraged public spirited individuals to come forward voluntarily and donate blood to re-stock the blood bank.
Voice of Nigeria confirmed that the driver of the bus is currently in the custody of the police command in Lagos.