How Catholic Priest, Fr Hyacinth Alia Emerges Benue Gov-Elect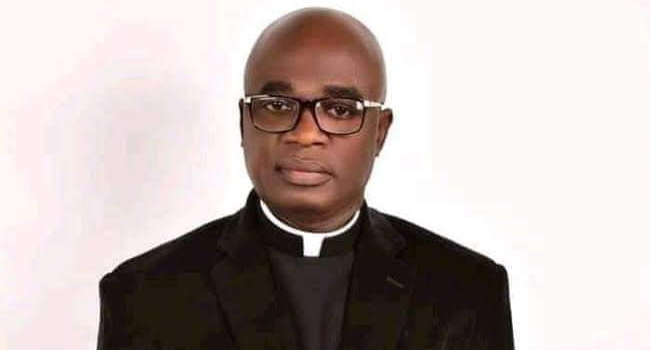 By Simeon OSAJIE
Governorship candidate of the All Progressives Congress (APC), Benue State, Revd Father Hyacinth Alia has emerged governor-elect of the March 18 gubernatorial election as announced by the Independent National Electoral Commission (INEC) in the state.
google.com, pub-3120625432113532, DIRECT, f08c47fec0942fa0
Revd Hyacinth Alia scored 473,933 votes ahead of his closest rival and Peoples Democratic Party (PDP) candidate, Titus Uba, who got 223,913 votes.

The Returning Officer, Prof. Faruq Kuta and Vice Chancellor of the Federal University of Technology, Minna declared Alia the winner.
Alia, who is a member of the ruling APC, is expected to take over from Governor Samuel Ortom.
Recall, in attempt to ensure that Revd Father Hyacinth Alia does not win the All Progressives Congress (APC) governorship ticket, leadership of the State chapter of the party conducted three separate primaries but in all, Revd Father Hyacinth Alia defeated other contestants to emerged the party governorship candidate.
So far, the results of 20 governorship polls have been announced. The APC takes the lead with 14 states, the PDP with five states and the New Nigeria Peoples Party (NNPP) with one state. The election in Kebbi was declared inconclusive by the electoral body while the collation of the results of governorship polls in Abia and Enugu was suspended.
Officially, nine of the 11 governors who sought reelection in the March 18 polls held across Nigeria in West Africa have been declared winners by INEC to return to office for another four-year term each.
They include Governor Babagana Zulum of Borno State, Governor Babajide Sanwo-Olu of Lagos State, Governor Dapo Abiodun of Ogun State, Governor Seyi Makinde of Oyo State, Governor AbdulRahman AbdulRazaq of Kwara State, Governor Inuwa Yahaya of Gombe State, Governor Abdullahi Sule of Nasarawa State, Governor Bala Mohammed of Bauchi State and Governor Mai Mala Buni of Yobe State.
Of the 28 states, 11 serving governors sought reelection while 17 outgoing governors are in the final weeks of their constitutional two-term limits of eight years, having been sworn in on May 29, 2015.