Anthony Joshua Beats Franklin By Unanimous Decision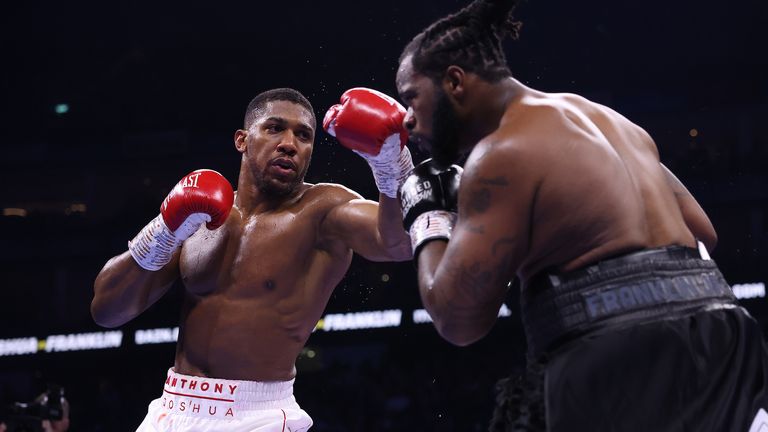 By Simeon OSAJIE
Nigeria born former heavyweight unified champion Anthony Joshua claimed his first win in over two years with a unanimous decision victory over American Jermaine Franklin at the O2 Arena in London on Saturday, 1st April.
google.com, pub-3120625432113532, DIRECT, f08c47fec0942fa0
The judges scored the bout 118-111, 117-111 and 117-111.
Joshua (25-3, 22 KOs) had suffered defeats to Oleksandr Usyk in his two previous fights and had not won since he knocked out Kubrat Pulev in December, 2020.
Saturday's bout was billed as the start of a "new dawn" for the former heavyweight champion. It was Joshua's first non-world title fight since he defeated Charles Martin in 2016, ending a run of 13 consecutive world title fights.

The British heavyweight entered the fight as a heavy favorite at -1100, according to Caesars Sportsbook, but Franklin (21-2, 14 KOs) was no pushover and kept Joshua uncomfortable for much of the bout.
Joshua, who is No. 4 in ESPN's heavyweight rankings, made some significant changes ahead of Saturday's fight, including a switch to Texas-based trainer Derrick James, who is ESPN's reigning trainer of the year. He also weighed in the heaviest he has been in his professional career at 255.4 pounds (115.8 kilograms) — 11 pounds (5 kg) heavier than in his previous fight.
Franklin, who has never been knocked out and whose only previous loss came against Dillian Whyte in a controversial majority decision in November, was taking a major step up in class against Joshua, although it did not always seem that way.
Sources: NewsDirect