Someone Impersonating Peter Obi, Hence His Interrogation – UK Immigration Officer Claims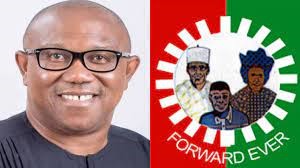 By Simeon OSAJIE
An Immigration Officer of the United Kingdom (UK) has revealed the reason while the Labour Party (LP) presidential candidate in the just concluded Nigeria general elections, Mr. Peter Obi was allegedly detained in London.
google.com, pub-3120625432113532, DIRECT, f08c47fec0942fa0
The shocking revelation by the Immigration Officer was that his (Obi's) identity was duplicated. This revelation has definitely set off alarm bells.
Obi was said to have been detained for hours, and interrogated by the officials, after his British Airways plane landed in Heathrow Airport on Friday morning.

A famous Mass Communications scholar, and Deputy Vice Chancellor of Paul University Awka, who is also a confidant of Obi, Prof. Chinyere Okunna, revealed this on Wednesday morning.
Okunna, who worked with Obi as commissioner for information, commissioner for economic planning and coordinating commissioner for development partners said Obi who lived honourably in the UK narrated the ordeal to her in private, and expressed pain about his ordeal, and others, which is meant to hound and chase him out of Nigeria.
Okunna said: "I suppose he told me all this confidentially. My very sincere apologies, Your Excellency, for 'breaking' this confidentiality, but History beckons and I CANNOT KEEP QUIET.
"Obi spoke to me at the Official Opening of the Specialist Hospital of the Immaculate Heart of Mary (IHM) Sisters, Nkpor (on Tuesday). He had arrived at the event after flying in from London.
"I actually had no idea he had travelled out of the country, until the ovation over his presence in a London Church went viral on the Internet.
"He arrived at Heathrow Airport and joined the usual queue to pass through Immigration, and that was when his ordeal began.
"He was stopped and questioned for a long time and subsequently handed a detention note and told to wait for further interrogation and investigation.
"This was terribly unusual for a man who had lived honourably in the UK for a long time.
"In the face of this harassment, some well-meaning Nigerians, knowing who he is, raised their voices in protest, demanding to know why he was being treated that way."
Okunna revealed that in the face of seeming protest by some Nigerians, the immigration officials revealed that someone was impersonating Obi in the country.