Harry Maguire Error, David De Gea howler Gifting Underline United 3-0 Defeats To Sevilla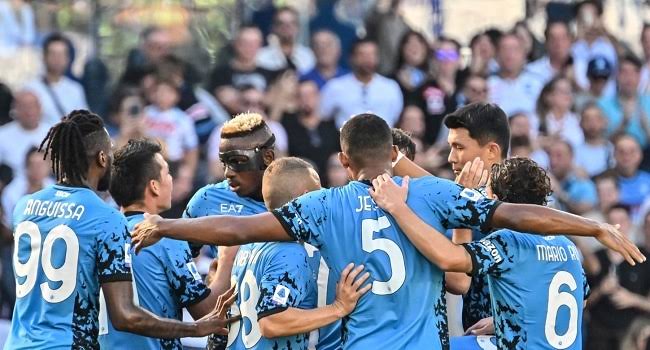 By Our REPORTER
Manchester United not only crashed out of the Europa League as a pitiful 3-0 defeat at the Ramon Sanchez Pizjuan Stadium but slid to errors on a night that saw Sevilla book their place in the semi-finals with a crushing 5-2 aggregate victory.
google.com, pub-3120625432113532, DIRECT, f08c47fec0942fa0
United captain, Harry Maguire, and David De Gea were the two culpable cops who could not withstand Sevilla's pressure, leading to the first and third goals of the match that removed the fame from the team.United threw away a two-goal first-leg advantage at Old Trafford with two own goals last week but stooped to new lows as Erik ten Hag's side imploded in Spain and saw their European hopes evaporate on a sorry night.

United was expected to make up for the slip last Thursday at Old Trafford after leading by two goals up until the last minutes, but Harry Maguire's early error, which presented Youssef En-Nesyri with Sevilla's seventh-minute opener, set the tone for the insipid performance, which only got worse seconds after the break when Loic Bade's header looped in off the bar, and was then compounded by David De Gea's howler gifting En-Nesyri his second.
After Liverpool's 7-0 Premier League horrendous bashing of Man United in the Penultimate week, It was the latest in a series of demoralizing defeats that have come to characterize Ten Hag's debut season, and the worse possible preparation for Sunday's FA Cup semi-final against Brighton at Wembley, where United's remaining hopes of winning silverware now rest.
Sevilla's emphatic victory saw United bow out of Europe to Spanish opposition for the sixth successive season and sealed the six-time winners' progress through to a semi-final against Juventus, who also defeated Sporting 2-1 in their quarter-final.
Captain Maguire was swarmed upon by Sevilla forwards after calling for a pass from goalkeeper De Gea and he was swiftly dispossessed as En-Nesyri raced into the area and clinically found the bottom corner to give the hosts the lead in the tie for the first time.
Bruno Fernandes's and the defense pairings of Argentina defender Lisandro Martínez, and France's Raphaël Xavier Varane's absence exposed and contributed to the underperformance of the Red Devils after the trio mysteries received last week in the 2-2 draw at Old Trafford that denied them of adding their values to the quality of play of the team.
For a sixth successive season, Manchester United has been eliminated from a European knockout tie by Spanish opposition – with three of those coming against Sevilla in 2017-18, 2019-20, and 2022-23.
This is the first time Manchester United have been eliminated at the quarter-final stages of the UEFA Europa League, having progressed from each of their three such ties before the defeat on Thursday.


Manchester United face Brighton in the FA Cup semi-finals on Sunday; kick-off 4.30 pm, While Sevilla hosts Villarreal on Sunday at 8 pm in LaLiga.