Edo Labour Party Dissociates Self From Advertorial Billboards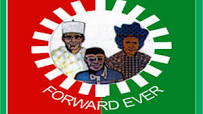 By Simeon OSAJIE
The Edo State chapter of Labour Party (LP) has dissociated itself from advertorial billboards with inscription, "All Known PDP AND APC Politicians Are Not Welcome In LP" erected in strategic locations around the Benin metropolis and parts of Edo State.
google.com, pub-3120625432113532, DIRECT, f08c47fec0942fa0
In a press statement issued and signed by Comrade Sam Uroupa, State Publicity Secretary of the party said the faceless group under the guise of "LP Integrity Movement" is not known to the leadership of the party both in the state and at the national levels.

Comrade Uroupa added: "We wish to state it categorically clear that we don't know such group in Labour Party and thus they cannot be making a public caveat on behalf of Edo State LP. 

"We therefore urge the general public to disregard them as it is not in their place to determine who should be admitted and who should not to be admitted into the party's platform. 



"LP is a disciplined Party with a people oriented manifesto hinged on creating an egalitarian society.  The leadership of the party  has already reported the activities of these unscrupulous elements to the Law Enforcement  Agencies for proper investigations and bring them to book."