They Killed My Husband For Rejecting Special Duty – Wife of Kwara Inspector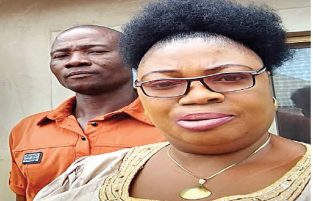 By Simeon OSAJIE
The atmosphere was pensive as seated family members and friends of Inspector Taiye Atobiloye sobbed quietly.
google.com, pub-3120625432113532, DIRECT, f08c47fec0942fa0
The somber air was punctured anytime a new visitor rushed in, asked if the news was true and burst into searing tears.
Curled up in a corner of the two-bedroom apartment was Taiye's wife, Oluwabukola, a teacher in a public school in Kwara State. She looked disheveled and shattered.

After four stillbirths, her hope of being a mother after 12 years of marriage had just ended.
The bereaved woman kept wondering how her police husband died after seven days of being held incommunicado in a police cell in Lokoja.
"How could the police do this to one of their own?" she asked rhetorically.
"I want the world to know what they did to my husband. They collected a lot of money from him and tortured him to death," she wailed.
Oluwabukola said her husband went to Lokoja with copies of his medical reports to appeal for a reversal of the deployment.
An Assistant Area Commander was said to have expressed shock at the posting of the inspector and promised to send another signal for him to return to Kwara.
According to the wife, Taiye was made to part with some funds to make the signal quicker.
"The assistant area commander assured him that the new signal was already being typed. He (the assistant area commander) said he was going to eat and my husband should not yet report.
"Before the man would return, he and the DPO at Oke Onigbin had spoken and reached another agreement.
"Because my husband had spent a lot of money, some of which he borrowed from me, without getting the letter, he left Lokoja on Thursday, April 13.
"When he returned, I asked why he did not stay and he said his spirit was troubled and that was why he returned home. I told him to go back since he did not have any other job and his uniform was still there. He promised to return next Tuesday," she added.
Source: punchng