16 People Burnt To Death In Osun Auto Crash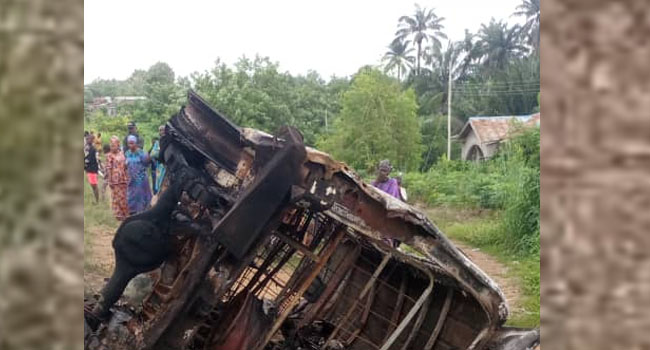 …as explosion of a gas cylinder burnt bodies to death
By Simeon OSAJIE
google.com, pub-3120625432113532, DIRECT, f08c47fec0942fa0
Sixteen persons have been burnt to death and others wounded in an auto crash in the Odeomu area of Osun State.
The accident happened opposite Mat Oil and involved a white commercial Mazda Bus with registration number APP834XT and a white Lexus Jeep bearing registration number LSR304HW.

While confirming the incident, Mrs. Agnes Ogungbemi, the spokesperson of the Osun State Command of the Federal Road Safety Corps (FRSC) said some of the victims were burnt beyond recognition.
She explained that those injured had been taken to Ise-Oluwa Medical Centre in the town for prompt medical attention.
The victims of the Saturday incident include 11 adults and five children. Only one person was identified and taken away by the family while four others sustained injuries.
Investigation revealed that the accident was due to a speed violation which led to a loss of control. The impact of the crash then triggered the explosion of a gas cylinder in the bus.
The burnt bodies have been evacuated and deposited at the morgue of the Ladoke Akintola University of Technology Teaching Hospital in Osogbo, Osun State by the FRSC rescue team in collaboration with officers and men of the Nigeria Police Force, Odeomu Division.
In the wake of the development, the FRSC Corps Marshal Dauda Ali Biu has cautioned the motoring public against the conveyance of explosive materials like gas cylinders in passenger vehicles.