Okonjo-Iweala Urges Govs-Elect To Stop Depending On Oil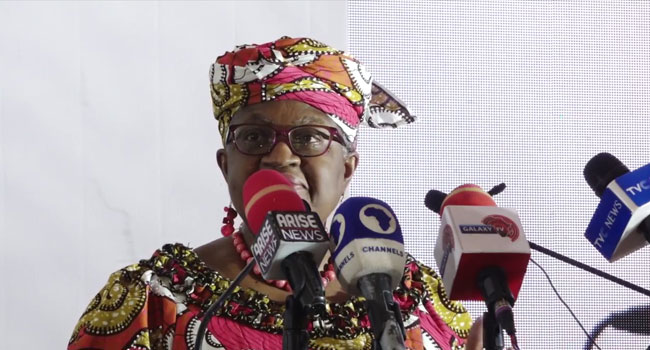 By Simeon OSAJIE
Dr. Ngozi Okonjo-Iweala, Director-General of the World Trade Organisation (WTO), has advised incoming governors to stop depending on crude oil and diversify the sources of revenue in their domains.
google.com, pub-3120625432113532, DIRECT, f08c47fec0942fa0
Se, Okonjo-Iweala spoke yesterday, 15th May, 2023 during an induction organised for elected governors in Abuja, two weeks before the May 29 inauguration.
According to her, states with over-dependence on the monthly Federation Account Allocation Committee (FAAC) would be badly hit.

"We need to start preparing now for a time when our oil and gas will no longer serve us as the main sources of revenue. States with a heavy dependence on FAAC allocation will be particularly hit,
"It is important that you governors start now to diversify your revenue sources. We ought to be seeking to double our growth rate and sustain that higher growth until we attain upper middle-income status," Okonjo-Iweala stated.
Dr. Okonjo-Iweala also urged the governors-elect to rebuild trust through their policies and programmes to regain the support of Nigerians.
She explained that a lot of trust has been broken following after the 2023 general elections.
"Honourable governors, let us be candid: trust in Nigeria has always been fragile but following the elections, a lot of trust has been broken.
"Through your words, deeds, and policies, you need to demonstrate to Nigerians that they are equally loved, that they can settle and do business in any part of the country without fear. I love Nigeria deeply and I want to feel welcome in any part of this country," she added.