Anti-Graft Agency, EFCC Seals Off Lawmaker-Elect, Ukodhiko's Abuja, Rivers, Delta Properties Over Corruption Allegations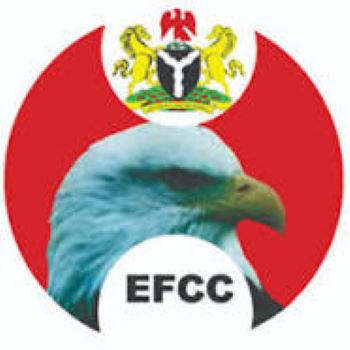 By EDITOR
Properties belonging to Jonathan Ukodhiko, Peoples Democratic Party (PDP) House of Representatives member-elect for Isoko Federal Constituency in Delta State have been sealed off by Anti-Graft Agency, Economic and Financial Crimes Commission (EFCC) over alleged corruption and related issues.
google.com, pub-3120625432113532, DIRECT, f08c47fec0942fa0
The affected properties are located in Abuja, Rivers and Delta States.
It was reliably gathered that Ukodhiko who is currently being investigation by the anti-draft agency, has been on the run for several weeks now and has refused to honour several invitations to him by the Commission to answer questions bothering on alleged corruption involving his oil and gas conglomerate companies, Joeny Holdings Limited in Port Harcourt, Rivers State.

It was also gathered that the Commission after approaching the Federal High Court in Port Harcourt, Rivers State, got an order to seal off Ukodhiko's office in Port Harcourt and in his Isoko country-ome at Erawah-Owhe, Isoko North Local Government Area of Delta and other properties across the country.
An operative of the Commission who refused to disclosed his identity who is involved in the investigation of the fugitive member-elect, confirmed the story, saying, "yes, the member-elect, Jonathan Ukodhiko is on the run, we have extended series of invitations to him to appear in our Port Harcourt office in Rivers State for questioning on issues bothering on corruption related matters.
"But he has vehemently refused to honour all invitations extended to him so far. As a result of that we approached the court for an order to seal off his properties pending his arrest or surrounding himself to our office.
"Following the court order in suit No: FHC/PH/CS/88/2023, we sealed off his Port Harcourt office, Rivers state few weeks ago and on Friday we went to his Isoko residence to seal it off as well as other properties identified to have been owned by him across the country.
"Why is he on the run for several weeks now? Why is he evading arrest and interrogation? If you are running a genuine business; why hiding, why on the run, why refusing to honour invitation extended to you, why evading arrest? Any moment from now we shall declare him wanted and place a bounty on him. We learnt he travelled abroad and may not be back until the proclamation of the National Assembly by President Bola Tinubu."
On Friday when journalists visited the Isoko residence of the member-elect, officials of the anti-graft agency were seen sealing his properties.
Meanwhile as at the time of filing this report, all calls and messages sent to Ukodhiko to comment on the sealing off of his properties were not responded to.
Source: saharareporters.