A New Edo State Is Possible – Martins Azekhumen Okoukoni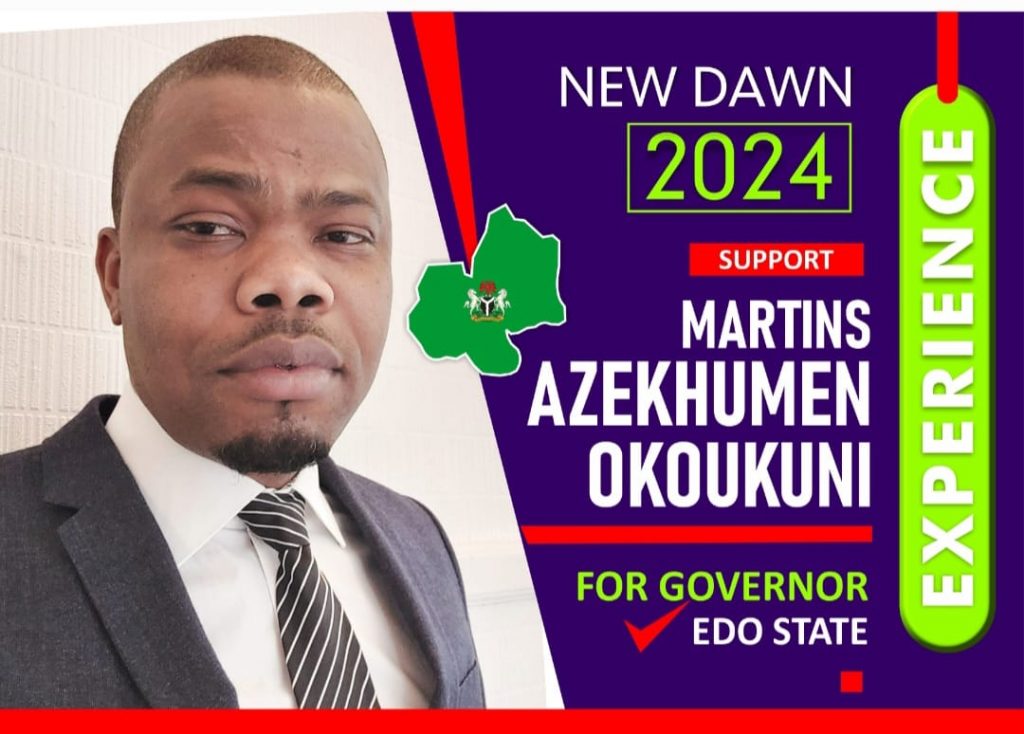 OUR TARGETS:
Leadership by example, a transformational style of leadership that ensure working together in peace and unity with political party leaderships, stakeholders – good people of Edo State. A New Edo State where everyone matters,. 2024 shall be a government from the people and for the people.
Transform Edo State from consumption State to production and exportation of goods and services through government initiative that prioritize a practical exploration of the people's abilities, empowering people based on their interests, talents, hobbies, natural resources, products, businesses, research, industries and vocation for the purpose of creating more employment and improving internal generation of revenue which are channeled into the improvement of infrastructures.

Focus on institutional reforms and policies that discourage and reduced human exposure to corrupt practices. "To err is human". Therefore to ensure rule of law, social values, equality and equity. Our vision goes across reforms that practically minimizes and discourage people access to any forms of corrupt engagement.
Investment in Human Capital Development;
– Education: A reform in education where the rich and the poor can have access to quality education through government grants and financial support for the less privileged.
google.com, pub-3120625432113532, DIRECT, f08c47fec0942fa0
– Health: Introduction of pay as you earn health insurance that will bridge the gap and ensure quality healthcare service for all, and provision of modern health care facilities. Our vision is to creating free children and pregnant women hospital across the three senatorial districts.
– Infrastructural development: Embarking on counter urbanization or de-urbanization program that ensure swift development across Edo State and transform traditional tarred road dependency transportation style to rail system of transportation.
– Power: Focusing on transition to alternative sources of energy which are eco-friendly through government solar panel grants for eligible homes and huge investment in renewable energy grid.
Massive investment in agriculture through government grants, soft loans, provision of agricultural equipment and creating a holistic pathway for investment and exportation.
Holistic pathway to poverty eradication through government initiatives that focus of provision of social welfare for struggling families, soft business startup loans for the youths, encourage skills acquisitions programs and ensure Edo State becomes a safe haven for business and production to succeed through people oriented policies.
Ensure the life and properties of Edo people is safe through the transformation of security architectures, provision of modern security equipment and government sponsored relevant trainings to boost the morale of our security personnel.
In God We Trust!
Vote Martins Azekhumen Okoukoni As Governor of Edo State Come 2024.
Signed:
Martins Azekhumen Okoukoni Campaign Organization