SENATE: Big Upset In APC Senators Camp As 22 Set To Join PDP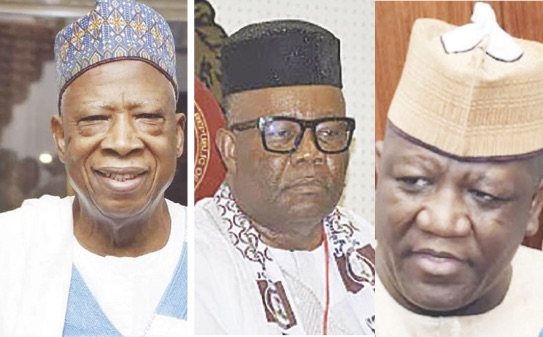 PDP lures Yari group with Senate President, Deputy positions
PDP senators to take Majority Leader, Chief Whip/Deputy, others
By Simeon OSAJIE
A reliable source at the desk of The9JaTREND revealed that barring any last minute change of mind, a major upset will occur in the Red Chamber of the National Assembly as 22 Senators from the ruling All Progressives Congress (APC) have perfected plan to dump the party by decamping to the Peoples Democratic Party (PDP), thereby giving the major opposition party the majority in the Red Chamber.

google.com, pub-3120625432113532, DIRECT, f08c47fec0942fa0
This was revealed by a reliable Senator from the Northwest, who said that 22 All Progressives Congress (APC) senators have perfected plan to dump the ruling party by decamping to the Peoples Democratic Party (PDP).
According to the source, these APC senators have decided to join force with their colleagues who are loyal to Senator Abdul'aziz Abubakar Yari who contested the Senate President position, but lost to Senator Godswill Akpabio.
The source added that already, the 22 senators have held series of meetings in Abuja and London, where they affirmed their resolve to decamp to the PDP.
Out of the 109 legislators in the Red chamber, the APC currently has 59 senators; PDP, 36; LP, 8; SDP, 2; NNPP, 2; YPP, 1; and APGA, 1.
Therefore, if the 22 APC senators make good their threat, they will swell the number of the PDP to 58 while reducing that of APC to 37, thereby throwing up the PDP as the majority party in the Senate.
To actualize their plan, it was gathered that the PDP senators have agreed to cede the Senate President position currently held by Senator Akpabio to one of the 22 senators and Yari's allies decamping to the party, as well as the Deputy Senate President post.
On the part of the PDP senators, the party would take the Majority Leader, Chief Whip, and Deputy Chief Whip, the source said, adding that the Yari group has pledged to work harmoniously with them.
Recall Senator Akpabio used 17 votes to defeat Senator Yari during the 10th Senate President election held on June 13, with Akpabio scoring 63 votes and Yari, 46.
Also another senator from the Northwest told journalists that a group of senators have already concluded plans to challenge the outcome of the election in court on grounds that the ballot papers used in the election that was supposed to be secret balloting were manipulated and compromised.
It was also gathered that the 22 senators who come from across the six-geopolitical zones and those planning to go to court from across party lines are just waiting to see how the sharing of principal offices, committees chairmanship positions in the Senate and some of their court cases in the states would go before carrying out their plans.
It was also gathered that the senators who are not in the Senator Akpabio camp have been left out in the ongoing committee selections in the Senate, which has reinforced their resolve to support the PDP in taking over the leadership of the upper chamber.
.
Source: Thesun