Peter Obi Doles Out Millions Of Naira To Muslim In Anambra To Celebrates Sallah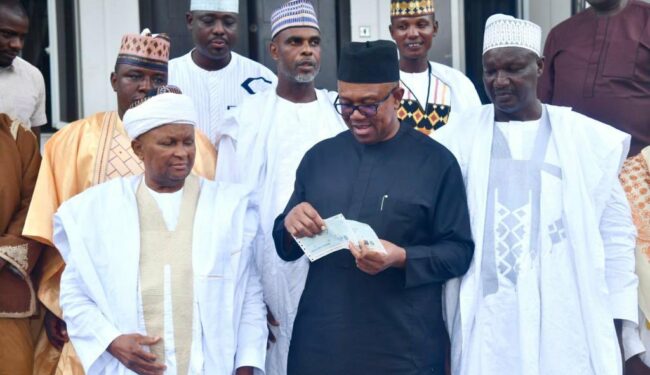 google.com, pub-3120625432113532, DIRECT, f08c47fec0942fa0
In his bid to fulfill his electoral promise to Anambra Muslim Community, the Labour Party (LP) presidential candidate in the February 28, 2023 general election, Mr. Peter Obi, on the auspicious occasion of this year's Eid Mubarak doles out cheques worth millions of naira to Muslim community in Akwa and Onitsha.
It be recalled that during Obi's visit to Awka and Onitsha Muslim communities in April, he promised to support them in renovating their places of worship, which was no longer in good condition.

He equally called on Nigerians to embrace peace, unity and brotherly love.
Obi gave the donation when he played host to leaders of the Anambra Muslim Community in Anambra capital, Akwa, on Wednesday, 28, 2023.
According to him, "I decided to celebrate the Eid Al-Adha with the Muslim community in Anambra, to show the brotherly love and unity that should exist among Nigerians, irrespective of tribal, political or religious belief."
"We are all Nigerians, and we will continue to live as one irrespective of our religious or political beliefs. What we owe each other is brotherly love and care, so we can live in peace and unity as a nation. We have no other nation but Nigeria and we must make it work.
"I know that times are difficult for everybody in the country, but if we rise above our religious, political and ethnic divisions, we will be able to surmount our challenges in unity. We will not give up on our nation, but continue to work for a New Nigeria that will be beneficial to every Nigerian."
In his remarks, the Sarki of the Awka Muslim Community, Alhaji Garba Haruna, said they were thrilled by Obi's simplicity and consistency.
According to him, Obi has demonstrated that he is a "truly detribalized Nigerian", by making out time to mark their Sallah celebration with them.