Ex IIJ Co-ord Urges NAS To Lead Conversation On Anti-Corruption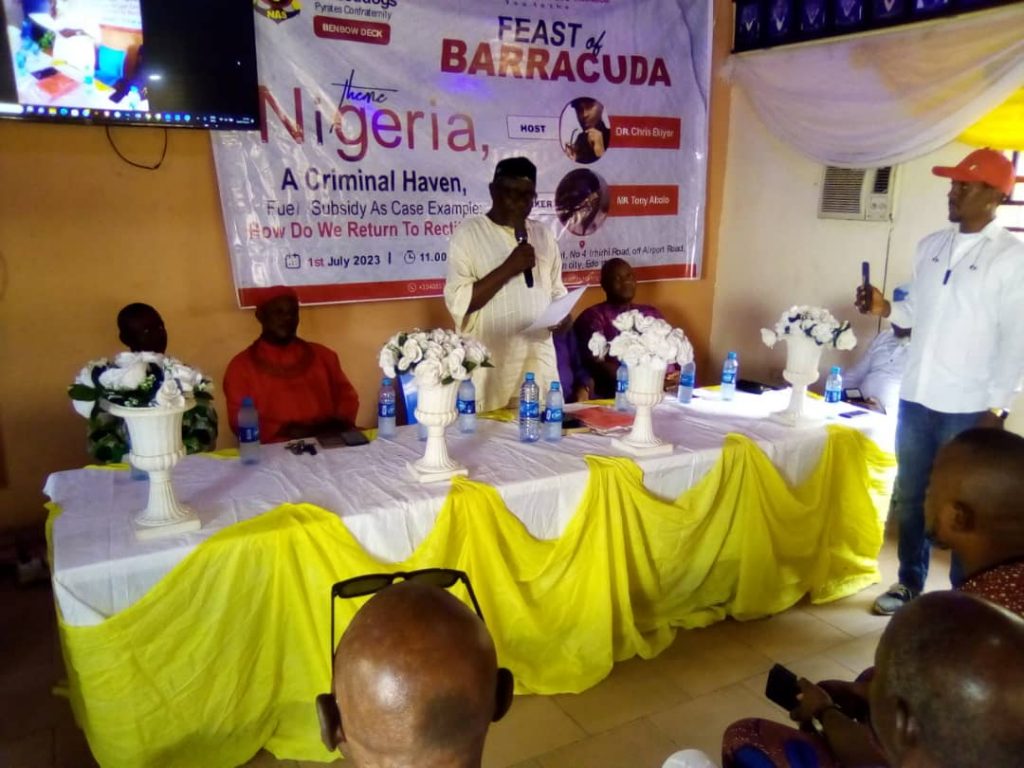 By Simeon OSAJIE
A veteran journalist and former Coordinator, International Institute of Journalism (IIJ), Benin Satellite Campus,Tony Abolo has charged the National Association of Seadogs (NAS), otherwise known as Pyrates Confraternity to lead the conversation for rooting out corruption from Nigeria.
google.com, pub-3120625432113532, DIRECT, f08c47fec0942fa0
Abolo gave the charge as a Guest Lecturer during the public lecture organised as part of activities for the annual Feast of Barracuda held in Benin City by the Benbow Deck of NAS.

The programme has its theme as, "Nigeria, a Criminal Haven, Fuel Subsidy as Case Example: How do we Return to Rectitude.?
Abolo said that "the conversation around fuel subsidy removal is a conversation around our corrupt ways and manners," describing it as a 'criminal enterprise.'
"It has worsened the unfortunate situation of many Nigerians, especially the poor, needy and the less privileged in the society.
"How can it work when we are all criminals? To survive in Nigeria, you must support a criminal; vote for a criminal; ask for a favour or job from a criminal; receive payment bribe for services or job done for a criminal," he said.
With over N7trillion gotten from subsidy removal and nothing to show for it yet, Abolo said Nigerians are paying for their silence.
He wondered why despite the evil nature of corruption, Nigerians are at peace with it, adding that Nigerians have neglected their part of democracy by not interrogating the system enough.
According to him, those in governance have perverted the system to enthrone personal interest, including nepotism, while political office holders in Nigeria abuse public office with impunity.
He therefore called for a review of how people participate in the nation's politics in order to engender participatory democracy.
The former IIJ Coordinator said there was a need for a National Dialogue for values where those things that drive the culture of Nigerians can be revived to propel the right process by collective action.
According to Abolo, "We must root out corruption and not normalize it; we must have an unexplained Wealth Order and reverse the order of the burden of proof in corruption cases.
"If a public officer cannot explain the source of his excessive wealth, he will forfeit it; all that Nigeria needs is an independent office, like in the UK, USA and not the moribund EFCC."
Barely a month into the administration of President Ahmed Bola Tinubu, Abolo noted that Nigeria's economy depreciated, with his policies deepening poverty of Nigerians.
"Inflation has risen from 17 percent when he came in to 24percent," and faulted those scoring President Tinubu a pass mark within the period.
He said there was nothing wrong in Nigeria's democracy, but the way Nigerians participate in it.
The Cap'n of Benbow Deck, Dr. Chris Ekiyor in his remarks, said the lectures series is part of the NAS process of interrogating the system for the purpose of entrenching an egalitarian society and accountable governance.
Dr. Ekiyor noted that subsidy removal has been a topical issue for some time now due to the corruption involved.
A former Cap'n of the deck, Akintaye Tope called for a national rebirth that would put an end to the institutionalization of corrupt practices.
According to him, corruption transcends stealing money and those who steal money.
He said that stealing money has made institution in Nigeria weak and creating weak institutions is a higher level of corruption.
Those who creates weak institutions, he said, are conspirators of the evil of corruption.
With the aggregate he said it would be difficult to see a public officer who can pass an integrity test.
To achieve high morality of the citizenry, he recommended the banishment of primordial challenges which he added are impetus to primitive acquisition of wealth, a synthesis for corruption.