Ganduje's Dollar Bribery Video Is Genuine, Not Doctored – Forensic Analysis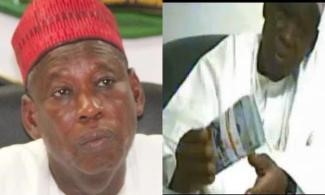 By Our REPORTER
The Kano State Public Complaints and Anti-Corruption Commission (PCACC) has confirmed that the forensic analysis that the dollar videos of Abdullahi Umar Ganduje, immediate past Governor of the state were not doctored.
google.com, pub-3120625432113532, DIRECT, f08c47fec0942fa0
Recall that in 2017 the social media video allegedly showed Ganduje receiving bundles of dollar notes and stuffing them inside his flowing dress known as "babanriga."

While Ganduje debunked the content of the videos, the Kano State House of Assembly subsequently set up a committee to investigate the allegations but the committee is yet to submit its finding report and a new assembly was reportedly inaugurated on Tuesday.
A one day public dialogue on "Anti-Corruption Crusade" in Kano, on Wednesday, 5th July, 2023, Chairman of the agency,  Barrister Muhuyi Magaji Rimingado, confirmed the authenticity of the videos.
He said since the release of the footages, people have been challenging him to prove the innocence or otherwise of the former governor in the matter.
He added that his commission commenced investigation in 2018 but could not go far because Ganduje, who was governor at the time, had immunity.
Online publications had on June 14 reported that Ganduje asked a Kano State High Court to perpetually restrain the Economic and Financial Crimes Commission (EFCC) from investigating him over the video clips which showed him allegedly receiving bundles of dollars from a contractor.
In a suit filed before the high court, the former Attorney General of the State asked the court to restrain the anti-graft commission from probing Ganduje until a suit between the former governor and the publisher of the Daily Nigerian, Jafaar Jafaar, was determined.
Ganduje, in the suit with the EFCC as the only respondent, through the former Kano attorney general, asked the court to declare that the invitation and interrogation of the state universal basic education board (SUBEB) chairman and accountant general of the state in connection to the video was illegal.