Two Nigeria Judges Pass Away In One Day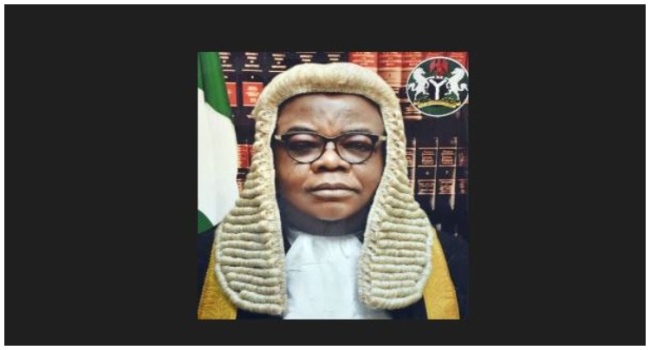 By Our REPORTER
The judiciary has suffered a huge loss as Justice Centus Chima Nweze of the Supreme Court and Justice Peter Mallong of the Kaduna Division, both died on Sunday in Abuja.
google.com, pub-3120625432113532, DIRECT, f08c47fec0942fa0
The jurists were said to have been ill for a brief period.
In a statement on Monday signed by the Publicity Secretary of the NBA, Habeeb Akorede Lawal, the Nigerian Bar Association (NBA), umbrella body of lawyers, described Justice Nweze as an astute and erudite jurist.

According to the Association, "His lordship's numerous decisions have shaped, impacted and developed our law and jurisprudence. He was a disciplined, hardworking, and courageous judicial officer."
They condoled the Chief Justice of Nigeria, Justice Kayode Ariwoola, the entire Nigerian Judiciary, the Government and People of Enugu State, friends and family of Justice Nweze and pray that the Almighty God comfort them.
Justice Nweze has delivered many impactful judgments one of which is the dissenting judgment in the appeal filed by former Imo State governor, Emeka Ihedioha against Hope Uzodimma in 2020.
A practicing Christian of the Roman Catholic denomination, he was married to Hon Justice Ugonne Jacinta Nweze of the Enugu State Judiciary. Their union is blessed with five children and a grandchild.
Meanwhile, the Chief Registrar of FHC, Hassan Amida Sulaiman, announced the sudden death of Mallong in a statement he made available to newsmen Monday morning.
It reads: "It is with deep sadness and heavy hearts that we announce the death of our own, Hon. Justice Peter Mallong, a judge of the Federal High Court, who passed away on Sunday unexpectedly after a brief illness in Abuja.
"We will miss him more than words can express. Funeral arrangements will be communicated to the public in due time."