Edo's Obaseki, His Shaibu And The End Of Adultery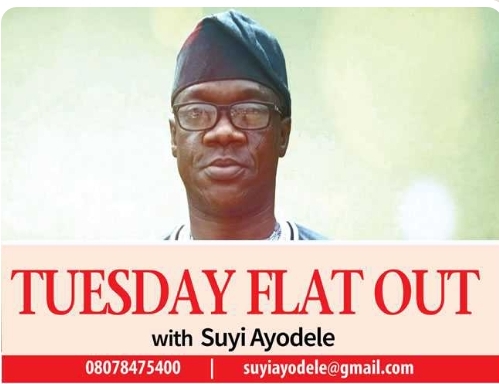 By Suyi Ayodele
Something is happening in Edo State right now. It is a big lesson in infidelity. As you read this piece, the rope which strapped Governor Godwin Obaseki and his deputy, Comrade Philip Shaibu, together in the wake of their joint political annihilation of their estranged godfather, Comrade Adams Oshiomhole, has snapped. As it stands today, Shaibu is holding on at the mercy of an Abuja Federal High Court, which asked the parties in the suit he filed to stay action. Shaibu, rightly, or wrongly, in the said suit, claimed that his principal, using the House of Assembly, had put in motion plans to impeach him. Obaseki, on his part, said there was no such plan. The security agents, who were joined in the suit, also denied it. How do my people describe a situation like this? "Agbón únsé, ìkamùdù únsé; ojú olóko rē gùdùgudu" (The wasp denies, the giant ant denies, yet the face of the farmer is full of bumps). Oshiomhole is the only one savouring the entire drama with his signature mischievous smile at the corners of his mouth. There is a snag somewhere. We would come to that in a while. What is playing out in Edo State reminds me of the chants of hunters, back in my childhood.
google.com, pub-3120625432113532, DIRECT, f08c47fec0942fa0
One of the childhood pastimes I loved back in those days, was attending the chants by hunters, known as Ìjálá Aré Ode. These chants come in different shades; some purely entertaining, and some esoteric and dangerous. For instance, Ìrèmòjé, a dirge chant by hunters, is one that is not performed in the daytime, and, or just anytime. You cannot perform an Ìrèmòjé in your family compound simply because you are happy. Such a misadventure comes with terrible consequences. Ìrèmòjé is chanted when a hunter is faced with a very difficult situation, and he needs the assistance of the owners of the trade to get out alive. Or at the funeral of a hunter who was indeed a hunter while on this part of the planet. It is a combination of evocation, incantation, and invocation.

Talk about traditional trinity, talk about Ìrèmòjé. You have got to be versed in the deep language of Ogun worshipers to be able to participate in Ìrèmòjé, especially during an Ìsípa Ode (funeral rites for a departed hunter). I would have loved to do an Ìrèmòjé for Shaibu. But I was not initiated into the world of hunters. I only loved to watch the hunters ply their trades back then. I relied solely on the enviable positions occupied by my two elderly first cousins, the late Baba Olaiya Onipede (Olaiya Asho) and the current Head of Obajusigbe clan, Pa Jimoh Ajayi Owomorinle. These two, especially Baba Olaiya, were so versed in Ìjálá that other hunters avoided them when they entered their modes. And on such occasions, they would look around to see any inquisitive lad around and order him back home. Yours sincerely was once an inquisitive lad. Thankfully, curiosity did not kill my cat! There is one chant I picked back then that speaks to Obaseki and Shaibu's debacle.
The chant is about an adulterous woman. Hunters, as far back as the creation of time, knew that it is not profitable to marry an adulterous woman. They reasoned that any woman who could betray her husband has the capacity to betray any other man. Her coquettish proclivity would always drift her to other men, the hunters reasoned in their chants, as they sing: Àgbèrè obìnrin sòro fé (It is difficult to marry an adulterous woman); Bó pé bó yá yió da'lè (sooner or later she will betray you), Àgbèrè obìnrin sòro fé (It is difficult to marry an adulterous woman). Traditional philosophers say that once a married woman opens her laps for another man other than her husband, the man at home has lost the battle. I would not know how true that is.
However, I know that betrayal has a way of repeating itself. We have seen that among the Nigerian politicians, especially those of this inglorious era which began on May 29, 1999. Check those in power today and those in the opposition, you will find men and women who had before now touched base with virtually all the political parties. Our current swarm of political elite was absent when Obatala was giving the virtue of shame. One needs to attend any gathering where one politician is changing party colour like a chameleon to understand how despicable those we call our leaders can be. My Benin friends have a name for them: Anywhere belle face!
Shaibu was an unknown entity until the gods used Oshiomhole to support him in the year 2000 to become the President of the National Association of Nigerian Students (NANS), following the death of another Edo NANS President, Moses Osakede. Oshiomhole himself, whom many believe is a protegee of late Pastor Francis Osikpomobo Shaibu (Philip Shaibu's father), remained committed to his late benefactor by holding the junior Shaibu's hands up the political ladder. Through the instrumentality of Oshiomhole, Shaibu, was elected as a member of the Edo State House of Assembly, to represent Etsako West, under Oshiomhole's Action Congress (AC), in 2007. On November 12, 2008, the Court of Appeal sacked Professor Oserheimen Osunbor, who was erroneously declared the winner of the 2007 governorship election and declared Oshiomhole as the winner. As the sitting governor, Oshiomhole orchestrated the removal of the House of Assembly leadership in 2010 and installed Shaibu as Majority Leader on February 24, 2010. In 2015, just a year to Oshiomhole's end of second term, he, against all protestations from their Etsako clan, imposed Shaibu as the House of Representatives candidate for the Etsako Federal Constituency.
The argument that Oshiomhole as a governor, and being from Etsako West and of Uzairue ethnic group, should not allow another Etsako West and Uzauire person, who had before the 2015 elections, been a member of the house of assembly for eight years, to take the slot, fell on deaf ears. Barely a year in the House of Representatives, and as Oshiomhole's second term in office was round the corner, the homuncular former labour leader found no other person to be nominated as the deputy governorship candidate of the APC than Shaibu. On November 12, 2016, Philip Shaibu was sworn in as the deputy governor to his principal, Governor Godwin Nogheghase Obaseki. If there is any proverbial squirrel which cracked Shaibu's political palm kernel, look no further than Oshiomhole.
As it was for Shaibu, so it was for Obaseki, who before he became the occupant of Dennis Osadebay Avenue, Government House, Edo State, on November 12, 2016, was a political nobody. Oshiomhole appointed him as the Chairman of the Economic and Strategy Team (EST). He was in the Oshiomhole's administration as the unseen hands behind the government's Tax Assessment Review Committee for the Edo State Internal Revenue (TARC) and the Committee on Micro, Small and Medium Enterprises (MSME). Like he is fond of saying to anyone that cares to listen, Obaseki remains a 'technocrat' without any political lineage, platform, or idea. Meanwhile, in government, Oshiomhole had Dr. Pius Odubu as his deputy, whom he never handed over to for a second as acting governor, but who nevertheless remained loyal to his principal. Many would have taken the bet that given Odubu's level of loyalty, he would be anointed as Oshiomhole's successor.
That would never be as Oshiomhole, again ignoring all wise counsel, anointed Obaseki as his successor. He browbeat everyone to support the project and went all the way to bulldoze the political mountains on Obaseki's path to the Government House. On November 12, 2016, Obaseki took the oath of office as the Executive Governor of Edo State. The cycle was completed when Oshiomhole donated Osarodion Ogie, his erstwhile Commissioner for Works, as the Secretary to the State Government (SSG). He packed his bag, headed for his Iyamho country home and from there to Abuja, where he upstaged another Edo man and former governor of the state, Chief John Odigie Oyegun, as the National Chairman of the APC. Installed as the new APC National Chairman on June 23, 2018, Oshiomole, like the foolish Biblical rich man, looked at his political trajectory and the IOUs he deposited in the trio of Obaseki, Shaibu and Ogie back in Edo State, asked his soul to be at rest! How mistaken he was.
Back at home, the duo of Obaseki and Shaibu, like a political monozygotic twin, decided to carve a niche for themselves. They branded their political godfather overbearing and carried on in government without further recourse to him. Shaibu, who refers to his principal as "my elder brother", was treated like a partner and not a subordinate by the governor. While Odubu never had a second to become acting governor under Oshiomhole, Shaibu was given almost unlimited latitude by Obaseki. Shaibu oversaw politics while Obaseki concentrated on core governance. The deputy governor enjoyed much visibility such that the then Governor Nyesom Wike of Rivers State had to ask, rhetorically: "Who is Shaibu, a common deputy governor?" The gap between the godfather and his godsons became widened by the day. Prodded by Shaibu, who claimed to know all the tricks of Oshiomhole, whom he calls his 'father', Obaseki became vicious, such that Oshiomhole had to bide his time before coming to Benin City. All known political allies of Oshiomhole became endangered as Obaseki went after them one after the other.
Their business premises were either sealed up, demolished and their rights to the ownership revoked, and even railroaded to the nearest jailhouse. One of such boys relocated permanently to Abuja after he spent one Christmas in prison custody! Prompted by Osadebay Avenue (Government House), Oshiomhole was suspended by his Etsako West Ward 10, and the suspension was ratified by all the 18 local government chairmen on November 12, 2019. The National Working Committee (NWC) of the APC upheld the decision. There were litigations and counter court orders. An embattled Oshiomhole fought back. He denied Obaseki APC's ticket for a second term, on the grounds that the governor's certificates were fake. Obaseki and Shaibu wasted no time. On June 16, 2020, they both resigned from the APC, and three days later, joined the Peoples Democratic Party (PDP), where they sought the party's ticket for their second term. Again, Obaseki showed fidelity to his deputy, when PDP asked him to drop Shaibu, and pick a new man, the governor declined, stating that he would rather lose the bid for a second term than betray a deputy who stood by him in his political battles. Reason prevailed and Obaseki and Shaibu were adopted as PDP candidate and running mate for the September 10, 2020, gubernatorial race.
The 2020 election was the most tortuous for Oshiomhole. The campaigns "brought out the beasts" in the gladiators. Oshiomhole was practically chased back to his Etsako enclave, where he struggled to win five out of the six councils in that District, with a very puny margin. By then, Oshiomhole had become an ex-National Chairman of the APC, having been sacked by the Abuja division of the Court of Appeal on June 16, 2020. The 112,149 votes for the PDP in the Benin metropolitan councils of Egor, Ikpoba Okha and Oredo, was 18,381 votes more than the entire result of 93,768 votes, Oshiomhole got from the five, out of six LGAs in Edo North. Obaseki and Shaibu won and were sworn in on November 12, 2020, for their second term. The duo drank wine and danced to the who no like better thing, lyrics of Mr. 2kay and Jonsers. The conspiracy against Oshiomhole worked for the duo, but it was not to last.
Yoruba say of conspiracy this way: "Egbèrìn òtè, rírú ní rú; bí a ge laarò á rú lálé" (conspiracy is like a bunch of weeds, which when uprooted in the morning, sprouts in the evening). They go further to dismiss conspiracy as ephemeral, saying: "Ilé tí a fi itó mo, ìrì ni ó wo" (a house built with spittle will be destroyed by dew). Olu Daramola and Adebayo Jeje co-authored a play with the same title, "Ilé tí a fi itó mo". No matter how conspiracy thrives, it takes something inconsequential, like the dew, to pull it down. Obaseki and Shaibu are today, living examples of the validity of these sayings. The hitherto political soul mates are not just on the battlefield, it will take the grace of God for Shaibu to complete his term as the deputy governor. Given Obaseki's antecedents as an unforgiving and ruthless fighter, it beats my imagination how Shaibu would decide to take on his principal. Since the Obaseki political wars started with Oshiomhole, one fatal mistake his enemies make is to underestimate the governor's capacity to wreak havoc.
Oshiomhole underrated Obaseki until the latter was reduced to a lonely political figure in his Iyamho village before fortune smiled on him and he won the senatorial seat in February. What about Dan Orbih, the erstwhile National Vice Chairman of the PDP, South-South, who had the privilege of welcoming Obaseki to the PDP in 2020? Where is he today? Obaseki did not only hijack the entire PDP structures from Orbih, but he also sent him to political siesta. Why? Because everyone, who has gone into the political ring with Obaseki, has the tendency that the governor, being 'a political neophyte', does not understand the intricacies of deft political machinations. Poor souls! Even those who staked their political relevance to follow Obaseki from APC to PDP, are today licking their wounds.
Now back to the snag. Hanging on Shaibu's neck is the weighty allegation of breach of Oath of Secrecy. The Edo State Executive Council meeting held last Wednesday, accused him. Chris Osa Nehikhare, Commissioner for Communication and Orientation, who briefed the press after the meeting said there were consequences for the deputy governor. Obaseki too, while speaking at Shaibu's backyard on Thursday last week accused Shaibu of planning a "coup" against him. "To say the deputy governor has become so desperate to take over that he would do anything, including carrying out a coup, against his governor", Obaseki bemoaned. While the deputy governor has denied all the allegations, assuring that he would "swim and sink" with his principal, Oshiomhole, a demagogue par excellence, during the week, advised Shaibu to stay loyal to his boss. He warned Shaibu not to tinker with the idea of running back to the APC. "We in APC are satisfied with the way we are. We are happy in opposition, and we are not about to receive people who are coming because they have lost out. No IDP (Internally Displaced politicians) camp for politicians in APC", he maintained. I am not a prophet. All I know is that if by any chance, the Abuja court vacates its restraining order in the pending suit, Shaibu can as well sing his Nunc dimittis. Obaseki's antecedents point to that!