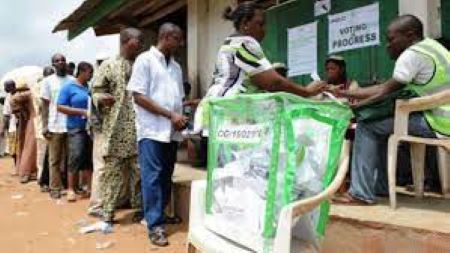 By Israel AKODIA
The general election of March 28, 2015 between the People's Democratic Party (PDP), the opposition, All Progressive Party (APC) and other parties in Useh community in Egor local government area of Edo State has been disrupted by thugs leading to the death of 3 persons.
google.com, pub-3120625432113532, DIRECT, f08c47fec0942fa0
Confirmed report also indicated that vehicles and properties worth millions of naira were also destroyed during the violence in several communities in the local government area.
It was learned that voting was delayed in the community owing to late arrival of voting materials till 1.00pm.
It was also gathered that following the late arrival of voting materials, the voting commenced with voters casting their votes for candidate of their choice.
The situation however degenerated into violence when supporters of APC, opposition party attempted to intimidate voters, some INEC officials and other party agents to alter collated results as voting continued but to no avail.
Confirmed reports indicated that some thugs allegedly hired by the opposition party to disrupt the election when the process appears not to be in their favour, stormed the community shooting sporadically in the air to send the voters running for their lives.
It was reliably gathered that the alleged thugs and supporters of APC opposition party entered all the polling units in the ward destroying ballot boxes while others carted away with ballot boxes.
A source in the community, who did not want his name in print, said the sporadic shootings by the thugs killed instantly two persons who are yet to be identified.
The Nigerian Observer learned that another victim who was hit by a stray bullet was later confirmed dead several hours after he was rushed to an undisclosed hospital for urgent treatment.
Attempts to ascertain from the police if any arrest concerning the alleged loss of lives and destruction of property worth millions of naira revealed no arrest has been made but that some supporters of the opposition party led by Osayi Uyi (youth leader of the opposition party in the community) in company of one Kenneth Idehen were largely responsible for the violence which led to loss of lives.
A statement made available by the police in Benin city stated that while the police command is still on the trail of the thugs responsible for the violence in the community, it has also launched a manhunt for both Osayi Uyi and Kenneth Idehen whose whereabouts remain unknown .