10th Anniversary of A Godsent Foundation: Edo State is Salvage – Amb. Dion Osagie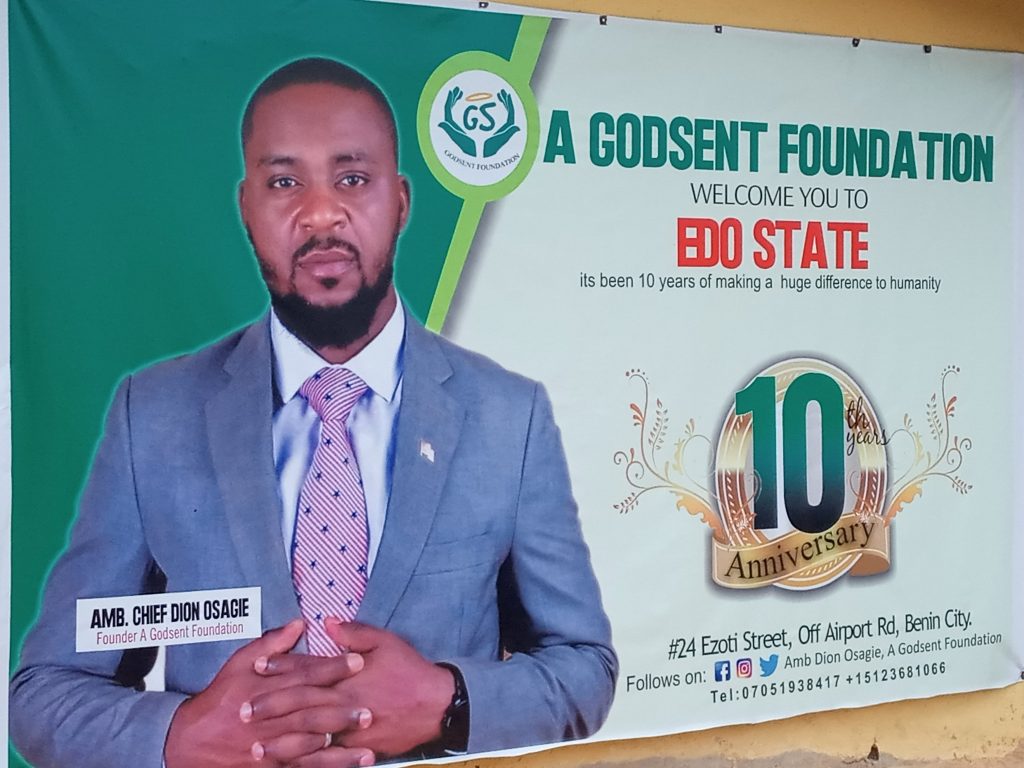 By Our REPORTER
google.com, pub-3120625432113532, DIRECT, f08c47fec0942fa0
The Founder of a Godsent Foundation has called on Edo State governor, Mr. Godwin Obaseki to wake up to his responsibility in fulfilling the campaign promises during the last gubernatorial election in state.
In an interview with newsmen, via Zoom in Benin City, Ambassador Chief Dion Osagie said, "Edo State current situation can best be described as 'salvage, not working.
According to him; Mr. Obaseki has totally failed his people who came out enmasse and voted for him to come back for his second term. It is a total failure for Governor, all his campaign promises has remain unfulfilled.
"Look at the city, the centre of Edo State, at 7.00:pm in the evening, everybody is running home because of lack of security, when I saw a video of Kingsquare, Ring Road recent, 7.30pm, everywhere is look like burial ground. That is not the dream we have for Edo State, we seriously need to tell the governor the true, he has failed totally in all ramification of governance.
"Going round Edo state, there is no job, no project is going on to accommodate our young ones that are jobless in the society. This is not acceptable. A year after election, there is not cabinet in place, Edo state is presently in the hand of a person who do not have the ability to lead our people. For short, Edo State is salvage.
"Mr Obaseki should wake up to his responsibility by making sure that our children are out of the street and back to class room to learn what we put food on their table because they are the future of tomorrow."
He noted that it is a constitutional right to protect every child but Edo children lack such responsibility from the government. "We cannot see what is wrong and keep quiet. The governor is not our superior, rather our servant. I encourage Edo people to wake up, speak up so that we can make a change in term of governance.
"For we at Godsent Foundation will continue the good work for the benefit our children, the needy both young and old and for the benefit of our community.
"Today we are celebrating ten years of Making Huge Difference to Humanity. It has been ten years of social change, it has been ten years of stability, it has been ten years of feeding our people, it has been ten years of getting free healthcare for our community and solving social problems.
"You can see already today, the amount of people leaving our office, you see a lot of people leaving our office with a whole lot of smiles, so. We have been able to achieved free education, we have been working on good healthcare project for our people of Edo State.
"Every last Saturdays of every month for the last five years we feed over two thousand people via our Godsent kitchen. We have agriculture programme, shelters, so the end of our good work is endless".
Speaking further, Amb. Dion Osagie said the driving force of the foundation is passion to bring succor to the lives of the less privilege in our community.
"Since we started this work, we have never received a dine from the government. In the last election, I decided to support my own candidate. So, I believe that it is my constitutional right or my own democratic right to be able to support who I want to govern Edo people. So, in terms of support, we have not received any dine from the government or any politician. It has been kid hearted individuals Nigeria and around the work that has continue to support our foundation.
"On the average, a Godsent Foundation spent N5 million every month. This year so far, we have spent over sixty million naira helping our people. So, if you multiply that you will see the amount we have spent in helping our people, you can see the amount of change we have created. The amount of change we have created is more than the amount of money we have spent.
"In the next ten years, a Godsent Foundation will make an impact in every state in Nigeria. Our own is to inspire people. A Godsent Foundation is not just here to help people, but to also inspire those with greater influence to do what they are doing for their people across Nigeria. So, our overall target is to make impact in every community across the country.
"I don't have any political ambition attached to my goodwill for the people of Nigeria. Going by what a Godsent Foundation is doing is to attest to the fact that, I am doing what the governor of Edo State and Nigeria at large can not do for their people.
"Challengies has come but for every setback, there is more comeback, I don't have challenge. If a man doesn't have challenges, therefore you will agree with me that, such person is not a man. To become a man is the number of challenges you are able to fix and cover up. So, I don't see what I encountered as challenge, rather I see it as part of growth.
"A Godsent Foundation has over 2,000 widows in our list, every single week, we have over 500 widows we give stipend to ranging from N5,000 to N10,000. So, go around our office, the people you are seeing can attest to the fact that we have over 80 per cent of those sitting here as widow. Edo State government need to create a platform to help these people, there is no excuse for the senior citizens in our state to be living in abject poverty, there is no excuse for our young children who are supposed to be in the school to be hawking pure water," he added.