Bayelsa Queens Emerges Winner Of 2021 BOWFT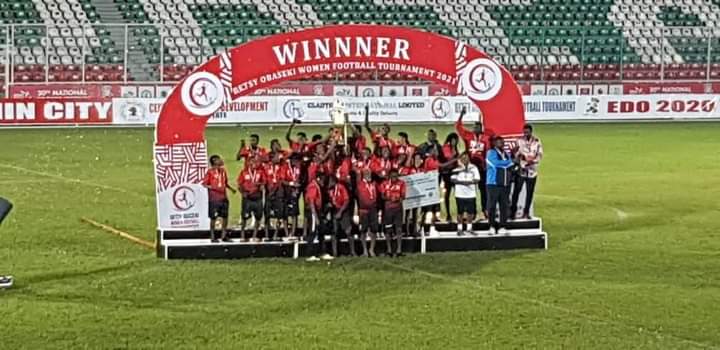 …As Edo Queens Pick Bronze
google.com, pub-3120625432113532, DIRECT, f08c47fec0942fa0
By Simeon OSAJIE
The maiden edition of Betsy Obaseki Women Football Tournament has ended in Benin City, Edo State capital with Bayelsa Queens emerging champions after beating neighbours Rivers Angels 4-3,via penalty shootouts after a barren draw in regulation time.
The final was indeed an epic one, preceded by a colourful closing ceremony witnessed by First Ladies from Bayelsa and Osun States, NFF officials, including Barr. Sheyi Akinwumi and Ibrahim Gusau. Other dignitaries in attendance were former governor of Edo State, Chief Lucky Nosakhare Igbinedion, the Acting Chief Judge of Edo State, Joe Acha, among others.
Edo cultural dance and some artistic performance were featured in the closing ceremony to the admiration of all who came from within and outside Edo state to graced the epic making event.
The third place match which was earlier been played at the same Samuel Ogbemudia Stadium at between Edo Queens vérsus FC Robo of Lagos saw Edo Queens emerging 3rd place winner with 5 -3 via penalty shootouts after 1-1 draw at regulation time of 90 minutes to get N2 Million as Consolation Prize.
The exploits of the Aiteo Cup champions Bayelsa Queens in the BOWFT have been punctuated their dominance status in Nigeria female football with masterclass performance against FC Robo, beating them 3-1 in the semifinals to set up the epic finals against the NWFL champions which they won.
Rivers Angels on the other hand also showed class as they stopped the host team Edo Queens 3-1 in the semifinals same stage on the road to the last game.
The BOWFT champions and reigning Aiteo/Challenge Cup Champions Bayelsa Queens no doubt, have found the Samuel Ogbemudia Stadium a favourable ground as they recently won the 2021 Aiteo Cup in the same field.
The BOWFT Champions Bayelsa Queens have pocketed N5 Million as Rivers Angels go home with N3 Million.
On individual awards, Edo Queens won the fair play, Monday Gift of FC Robo won the golden boot.