Edo Born Humanitarian Bags PhD In America University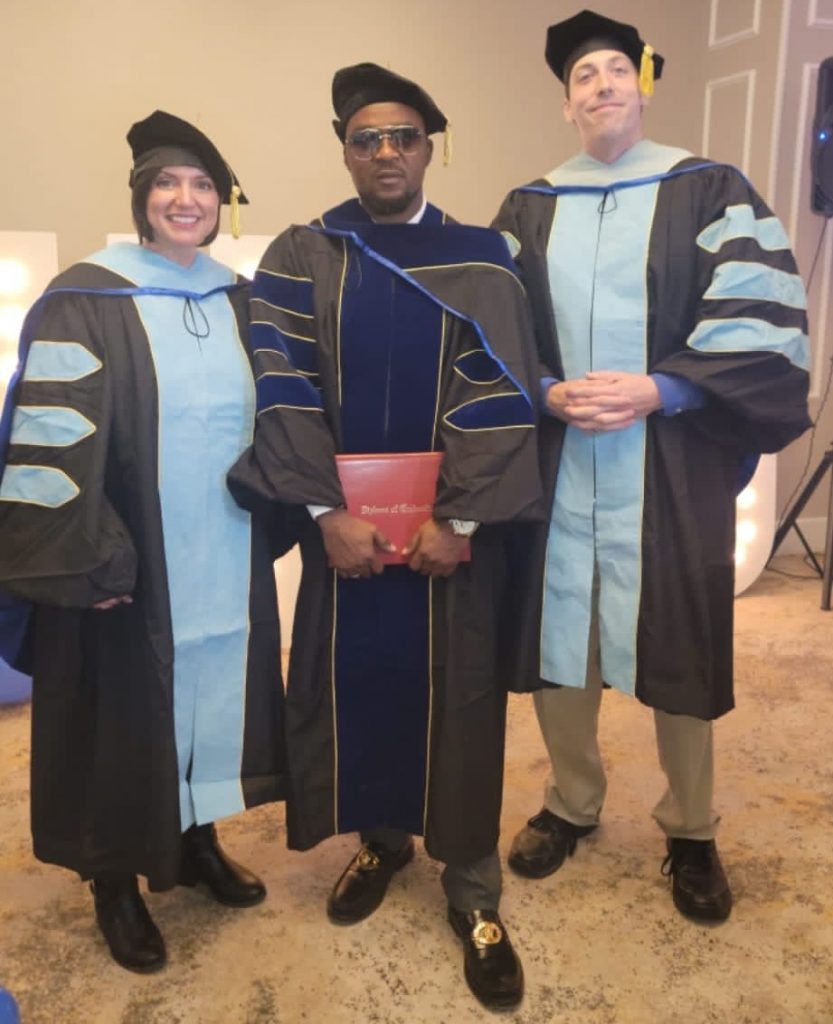 By Our REPORTER
The chair and board of professors of Higher Place Christian University, HPCU, United States of America, USA has bestowed the award of Honourary Doctorate Degree on the president of one of the leading non-governmental organization, NGO in Nigeria.
google.com, pub-3120625432113532, DIRECT, f08c47fec0942fa0
The university selected Chief Ambassabor Osarodion Osagie alongside six others as part of their yearly honour for seven special doctorate degree who has distinguished themselves both in their field of endeavor and contributions to the advancement of humanity.
According to HPCU, "we are awarding honourary Ph.D to Chief Osagie in leadership and Business Management for his outstanding achievements and contributions to the culture and society both at the national and international level and for inspiring the next generation."
The conferring of doctorate is the highest form of recognition offered by HPCU to persons of exceptional traits both in their personal life, career, business, profession and ministry and afterwards the recipient can be referred to or can add Doctor, Dr. or Ph.D to their name.
Speaking during the event, the lead recipient, President Godsent Foundation, Chief Ambassador Osarodion Osagie said he was surprised when he received the letter of notification from the University.
He said; "As a man from the city that is globally recognized as the cradle of black civilization, Benin City, Edo State, Nigeria, there is a common saying that 'if the hands of a child is clean, such child eats with the elders'.
"Growing up in Africa, I was taught by my dear parents to always be upright and do that which is right and noble, I have continue to stand on these simple words of wisdom till date.
"This honourary doctorate on my person is a testament to this great University diligence in the pursuit of truth, vision driven approach to philanthropy and education, foresight and total submission to the work of God."
He stressed that he is eternally grateful to God for giving him the courage in this 'troubledfull' world to abide to those inspiring words, while keenly focused on daily commitments to the service of mankind dovetaily into personal resolution of everly ready to assist the downtrodden, the less previledged in Edo, Nigeria cum the world.
"I have no doubt in my mind that this honour will add value to my commitment and reinvigorate my consciousness to the direction which God has destined me to follow.
"It gladdens my heart to say very succinctly that the will of God in my life, has been made manifest through the carefully selection and the subsequent approval of the honour done me by this noble ivory tower.
"As the name of this University depicts, I am doubly sure that our collective efforts to the service of humanity through God's grace will help lift all men and women who are in dire need to higher places of honour and spirituality. I dedicate this honour to all Godsents foundation family worldwide," Osagie said.