Ologbo Murder Case: PW1 In Witness Box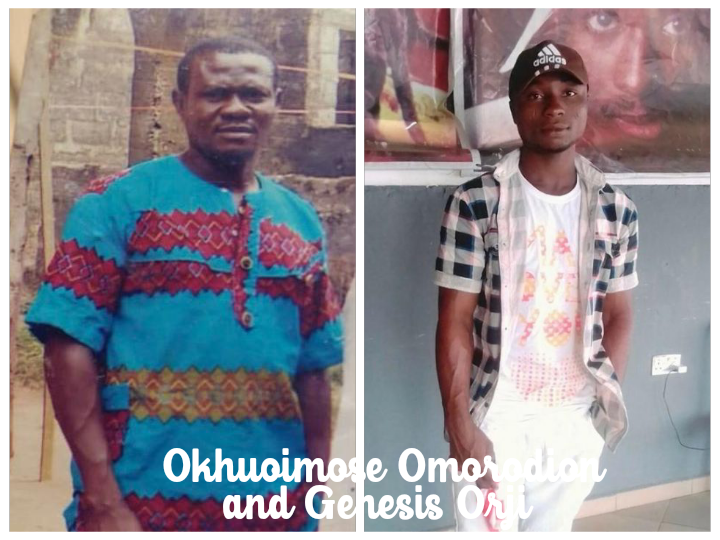 …As case adjourn to 10th January 2022 for continuation of hearing
By Our REPORTEER
google.com, pub-3120625432113532, DIRECT, f08c47fec0942fa0
Hearing in the case of The State Versus
Austin Olokor and 2 Others, Oluwa Esimije and Sunday Amamapoki in the alleged brutal murder of Okhuoimose Omorodion and Genesis Orji who were killed in Ologbo Dukedom, in Ikpoba Okha Local Government Area of Edo State has been adjourned to 10th of January 2022 for continuous of hearing.
The case came up today (29/11/2021/ in Benin Criminal Court, High Court 3. The Public Witness (PW1) was Cross examination by the defense counsel to the 2nd and 3rd accused persons, N. Nwoke.
During the cross examination, PW1 Pa Izekor, told the court that the two additional statements he gave on the 19th and 20th of October, 2021 were to clearify some points which he omitted in his statement of the 8th of March 2021.
He said he was so confused on the 18th because of the commando style the people who came to his house shot sporadically in his house .
"I was not myself because of what I witnessed. It was like a war zone, which I have never experienced in my life before that day.
He admitted that there was no issue between the Benins and the Itsekiris as they have lived long together and even inter married.
PW 1 added that, he called the Divisional Police Officer (DPO), to inform him that a group of people have killed somebody in his house. He denied coming to court to lie, stating that Police failure to arrest the suspects caused the delay from the 8th March to 18th March when he made his statement.
The 3 accused persons, Austin Olokor, who is on bail, Oluwa Esimije and Sunday Amamapoki both in prison custody were all present in court.
The 3 accused persons were charged with 5 count charges of alleged conspiracy, kidnapping and murder of Okuomose Omorodion and Genesis Orji in Ologbo Dukedom Ikpoba Okha Local Government Area of Edo state.
The Defendants' offence contravened Sections 516, 327 and 316 (1) punishable under Section 319 (1) of the Criminal Code Act , Cap C38, Laws of Federation of Nigeria 2004 and Section 2 (2) punishable under Section 3 of the Kidnapping Prohibition (Amendment) Law, 2013 of Edo State.
His Lordship, Honourable Justice Ifijie adjourned the case to the 10th of January, 2022 for continuation of hearing.