Hon. Edionwele Empowers Over 250 Constituents With Generators, Sewing Machine, Motorcycles, Hair Dryers, Hair Barbing Equipments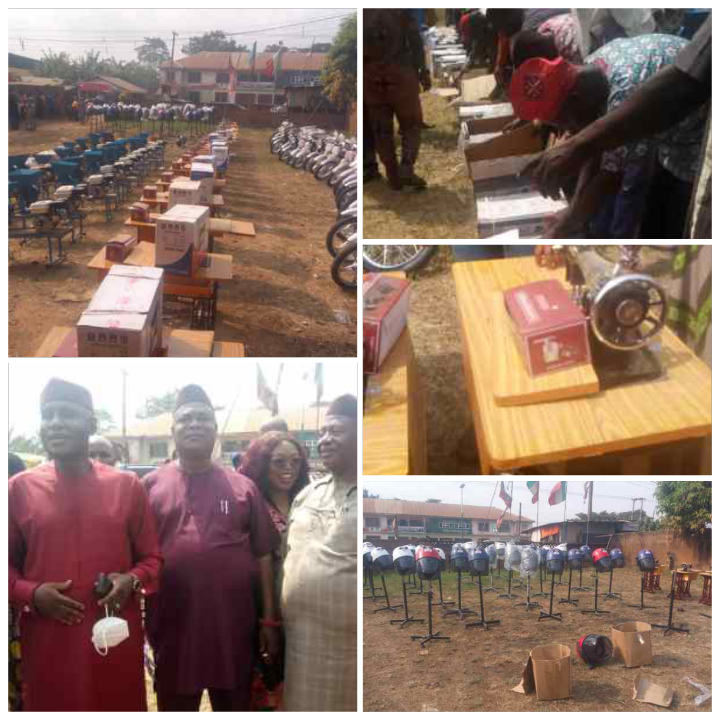 By Simeon OSAJIE
The member representing Esan West, Esan Central and Igueben Federal Constituency at the National Assembly, Hon. (Chief) Joe Edionwele has empowered people of his constituency with the distribution of various items ranging from Generators, Sewing Machine, Motorcycles, Hair Dryers and Hair Barbing Equipments.
google.com, pub-3120625432113532, DIRECT, f08c47fec0942fa0
The ceremony which took place in Ekpoma the administrative headquarters of Esan West Local Government Area of Edo State witnessed 250 constituents drawn from various wards across the three local government areas, Esan Central, Esan West and Igueben federal constituency where Joe Edionwele represents at the Green Chamber of the National Assembly, benefited from the package.
The empowerment items include 40 electricity generating sets, 40 motorcycles, 40 sewing machines, hair dryers and barbing clippers.
Speaking during the presentation ceremony, chairman at the event, Senator (Engr) Clifford Ordia, senator representing Edo Central Senatorial District thanked Hon. Joe Edionwele for the gesture, saying that it would help lift the people out of the poverty bracket, and encourage the beneficiaries to make good use of the gestures.
Addressing the beneficiaries and other guests, Hon. Joe Edionwele said the items would enable them engage in some form of independent, lucrative enterprise which will make them self reliance and employers of labour.
He further said the idea was to make the beneficiaries small business owners who would eventually help in creating jobs and reducing poverty in their immediate communities.
According to him, "I urge you the beneficiaries to be passionate in putting these items into proper use and to see this as an opportunity to climb to an enviable level of prosperity which is before you today.
"Though, it appears insignificant, it is my expectation that from this small beginning with determination, focus and fear of God, you will be able to record amazing testimonies, not only as employers of labour in our communities but will also provides essential social services to meet some of the existential needs of our people." He said.
The lawmaker seized the opportunity to reel his achievements in terms of legislative actions, empowerment and attraction of developmental projects, noting that he would continue to do more for his people