Youths Set Truck Ablaze Over Death Of Two Persons In Benin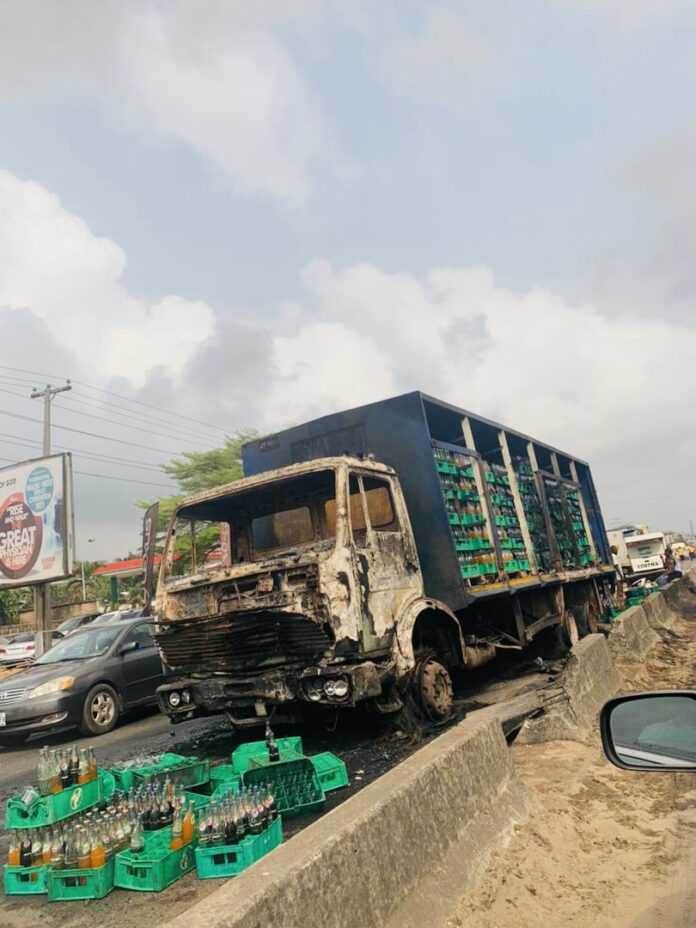 By Simeon OSAJIE
Angry youths in the early hours of Saturday, 8th January, 2022 sets truck loaded with drinks ablaze an accident which claimed the lives of two persons at PZ Junction, Sapele Road, Benin City, Edo State capital. The crash involved a Toyota Bus and a Stationery Ford Truck.
google.com, pub-3120625432113532, DIRECT, f08c47fec0942fa0
Speaking to newsmen, the Edo State Sector Commander, Federal Road Safety Corps, CC Henry Benamaisia explained that the fatal crash occurred as a result of excessive speed and obstruction. This caused an uproar among youths in the area who set the truck loaded with drinks ablaze.
Bodies of the victims have been extricated from the scene of the crash by combined team of FRSC, Police and EDSTMA to a nearby hospital.
The Sector Commander has once again cautioned motorists against excessive speed, dangerous driving, indiscriminate parking and other forms of traffic violations.
While speaking about the ugly incident, he urged motorists in the State to imbibe safe driving practices and be disciplined while using the road. The Sector Commander has also assured motorists, of the Corps continuous effort in ensuring that Road traffic crashes are reduced to the barest minimum and that the Corps will not relent in its Public Enlightenment/Sensitization of the Public on the dangers of excessive speed and other Traffic Violations.
He further advised the youths and the General Public not to take laws into their hands, adding that the Corps will continue to work tirelessly in ensuring that violators of Road traffic regulations are made to face the wrath of the law.