EPIA Honours Inegbenehi Sylvester Iziegbe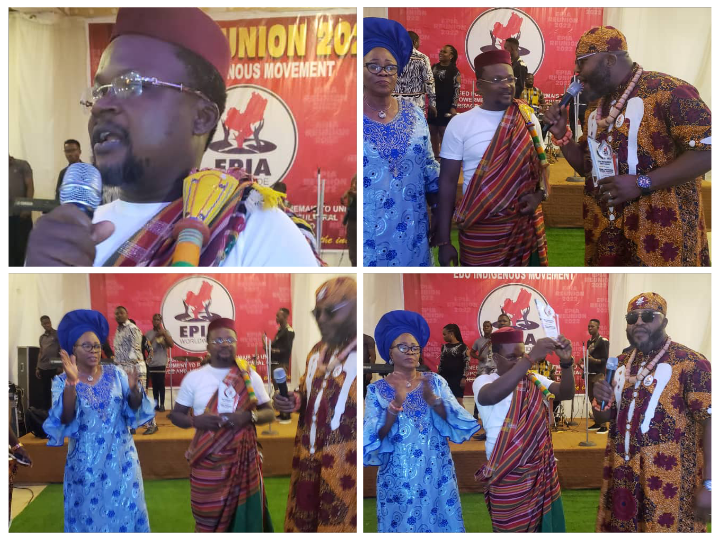 By Simeon OSAJIE
Edo Progressive Indigenous Movement Worldwide (EPIA) has bestowed an Award of Honour on Comrade Inegbenehi Sylvester Iziegbe, a distinguished Esan man in recognition of his contribution towards youth empowerment and unity among Esan people.
google.com, pub-3120625432113532, DIRECT, f08c47fec0942fa0
The ceremony which took place at Canada World Event and Hotel Conference Hall, GRA., Benin City Edo State witnessed dignitaries from within and outside Nigeria in attendance.
Comrade Inegbenehi Sylvester Iziegbe who was full with excitement while receiving the award thereafter thanked the organizers for the honour done him and promised to keep on the good work which enable the Movement to singled him out.
Comrade Iziegbe promised to keep up the good work for the betterment of Esan people in particular and Edo people at large. He said the award will spoil him to do more for the upliftment of the general public.
Comrade Inegbenehi Sylvester Iziegbe hail from Esan North-East local government area of Edo State. He is the State Coordinate Youth for Peace and Development in Niger-Delta, Co-founder Esankugbe Group, CEO INE & Co. Nigeria Limited a Real Estate Firm.
He attended Nana Primary School 4Hussey and Ambrose Alli University, Ekpoma, married to Mrs. Loveth Inegbenehi, a nurse by profession and blessed with 4 children.